April 16, 2013
Augustana edges Ashford 5-4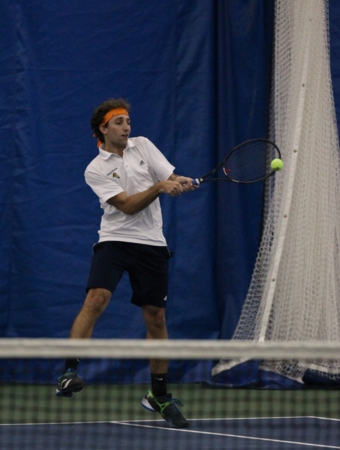 Junior Andy Wall was a winner at number four singles and with Lawrence Palmer first doubles Tuesday as Augustana defeated Ashford 5-4 at home.
ROCK ISLAND, Ill.-Will Palmer's (Schiller International School, Leicester, England) 10-5 third-set singles win over Carlos Pico provided the margin of victory Tuesday as the Vikings defeated Ashford 5-4 at Augustana's lower courts. Coach Jon Miedema's squad improved to 15-7 on the year, while the Saints fell to 10-5.

In a remarkably competitive meet which saw all three doubles matches end with scores of 9-8 and four of the six singles matches go three sets, it was Will Palmer's 6-4, 3-6, 10-5 win over Pico at third singles that clinched the win for the Vikings.
Will's brother, Lawrence (Schiller International School, El Prat de Llobregat, Spain),and Andy Wall (Notre Dame Academy, De Pere, Wis.) defeated Pavao Krzelj and Luis Castillo 9-8 at number one doubles. Augustana dropped the other two doubles matches by identical scores. Colin Arnold (Sterling HS, Sterling, Ill.) and Jack Cullen (Edgewood HS, Madison, Wis.) lost to Pico and Diego Aviles at number two and Will Palmer and Kevin Bayles (Homewood-Flossmoor HS, Flossmoor, Ill.) were edged by Arno Epping and Moises Hernandez at number three.
Lawrence Palmer was a 6-2, 6-3 winner over Epping at number one singles. Wall, with a 6-3, 6-0 win over Castillo, and Arnold, with a 1-6, 6-4, 10-8 win over Aviles, were winners at fourth and sixth singles, respectively. Harald Olsson (Lidingo, Sweden) and Bayles both dropped their matches in three sets. Krzelji bested Olsson 7-6, 2-6, 10-8 at number two and Alvaro Merino defeated Bayles 3-6, 6-4, 10-5 at number five.
The Vikings host Wheaton at 9:00 a.m. and Dubuque at 3:00 p.m. on Saturday, April 20.