April 16, 2013
Maduro's goal keeps Vikings undefeated in MWLC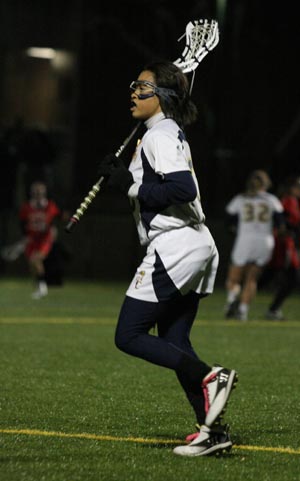 Freshman Kendall Maduro scored with 8.9 seconds left Tuesday to lift Augustana to a key 9-8 MWLC win over North Central at Thorson-Lucken Field.
ROCK ISLAND, Ill. - Freshman Kendall Maduro (Neuqua Valley HS Naperville, Ill.) scored with 8.9 seconds left Tuesday night to give Augustana a crucial 9-8 Midwest Women's Lacrosse Conference win over North Central at Thorson-Lucken Field. The win keeps the Vikings undefeated in league play at 6-0 and moves them to 11-3 overall. The Cardinals fall to 8-4 on the year and 5-1 in the conference.

The game was a nip-and-tuck affair the entire way. Only twice did either team manage a two-goal margin, both by Augustana at 7-5 and 8-6. Hilary Kargl's (Sacred Heart Academy, Louisville, Ky.) third goal of the night with 9:04 to play put the Vikings up 8-6, but North Central responded with goals by Bianca Perri and Jacqueline Morgan tie it with 4:49 to play.
The Vikings gained possession with just over a minute to play and Coach Sara Tisdale called timeout with 52 seconds left. Augustana then held the ball for the last shot and Maduro beat Cardinal goalkeeper Sarah Hon with the game-winner.
North Central's Leea LoPresti scored with 10:36 left in the first half and the teams went to the break tied 3-3. Gina Fisher's goal with 24:44 left in the game gave the Cardinals their final lead of the night at 4-3. Kelly Stelzer (Wheaton Warrenville South HS, Wheaton, Ill.) answered with back-to-back goals two minutes apart to regain the lead for the hosts.
Kargl finished the night with three goals. Stelzer scored twice and Sophomore Christina Letmanski (Glenbard West HS, Wheaton, Ill.) had a goal and two assists. Goalkeeper Sarah Osier (Naperville Central HS, Naperville, Ill.) recorded seven saves and got the win to go to 9-3 on the year. In addition to her big goal, Maduro had four ground balls, five draw controls and three caused turnovers. Freshman Kaylee Nolan (Sandburg HS, Orland Park, Ill.) had five ground balls, controlled four draws and forced four turnovers.
The Vikings outshot North Central 26-19, but the margin was just 17-15 in shots on goal. Augustana also had the narrowest of advantages in grounds balls, 23-22. However, behind Nolan and Maduro, the Vikings had a 15-4 edge in draw controls.
Tisdale's club will travel to Aurora to face the Spartans on Saturday, April 20 at 1:00 p.m.