April 16, 2013
Marathon game ends with Vikings on top 3-2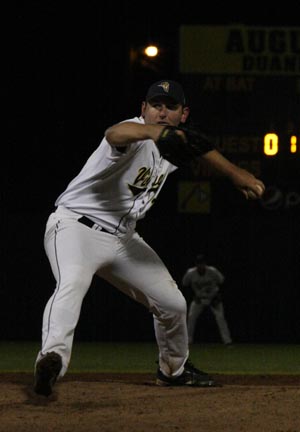 Senior Rick Erickson retired all six batters he faced in relief to pick up the win in Augustana's 3-2 victory over Knox in 13 innings on Tuesday, April 16 in Galesburg, Illinois.
GALESBURG, Ill. - Senior Kurt Schmidt (Grayslake Central HS, Grayslake, Ill.) manufactured a run in the top of the 13th inning and it proved to be the difference as Augustana defeated Knox 3-2 in non-conference baseball action on Tuesday, April 16 in Galesburg, Illinois. Schmidt's heroics made a winner of senior reliever Rick Erickson (Lake Zurich HS, Hawthorn Woods, Ill.) after he worked the final two innings.

The score was knotted 2-2 heading into the top of the 13th when Schmidt led off with a single, his second hit of the game. He promptly stole second and then stole third. When the throw to third got away from the Knox third baseman, Schmidt scampered home with what proved to be the game-winner.
Knox scored first in the game with a single run in the bottom of the first off Augustana starter James Rammel (McHenry HS, McHenry, Ill.). Rammel then put up 7 1/3 outstanding innings, giving up just four hits while striking out five and walking just one. He surrendered another run in the bottom of the eighth before giving way to Brandon Bollman (Lincoln-Way East HS, Frankfort, Ill.).
Bollman worked 3 2/3 innings of scoreless ball, giving up two hits and striking out five. Erickson came on in place of Bollman with a runner on and no outs in the 12th and he was perfect, retiring all six of the batters he faced, three on strikeouts. Erickson was credited with the victory, moving to 3-0 on the year.
The Vikings tied the game in the sixth when Schmidt singled in junior Jacob VanDuyne (Wilmington HS, Wilmington, Ill.), who had singled and stole second.
After Knox took the lead off Rammel in the eighth, Augustana picked up an unearned run to tie things at 2-2. Senior Grant Stewart (Sterling HS, Sterling, Ill.) reached on an error that put him at second base to lead things off. Brandon Jasper (Central DeWitt HS, DeWitt, Iowa) pinch ran for Stewart and moved to third on a wild pitch. Jasper scored on a ground out by senior Mark VanNatta (Rock Island Alleman HS, Moline, Ill.) to even the game.
There were only 13 hits in the entire game for both teams and Schmidt led Augustana with two. Knox used a total of eight pitchers while the Vikings trotted out just Rammel, Bollman and Erickson. With the victory Augustana is now 21-5 overall while Knox falls to 12-8.