April 16, 2013
Vikings roll past Fontbonne 15-4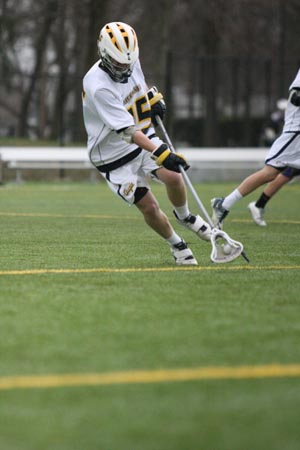 Jeremy Gottardo scoops up one of his three ground balls on Tuesday during the Vikings 15-4 victory over Fontbonne. He also had three caused turnovers in the game as Augustana raced off to an 8-1 lead at halftime and a 12-1 edge after three quarters.
ROCK ISLAND, Ill. - Freshman Kevin Gleason (Loyola Academy, Chicago, Ill.) scored four goals and dealt out three assists Tuesday to lead Augustana to a 15-4 Midwest Lacrosse Conference win over Fontbonne at Thorson-Lucken Field. Sophomore Jesse Nagelberg (St. Charles East HS, St. Charles, Ill.) scored four goals as well, with one assist. The Vikings move to 8-4 overall and 5-1 in the MLC. The Griffins fall to 8-6 on the year and 4-4 in the league.

Gleason scored three times and had two assists as Augustana jumped out to a 6-0 lead after one quarter. Nagelberg got the Vikings on the board with an unassisted goal five minutes in. Gleason scored off a Colin Haley (St. Charles East HS, St. Charles, Ill.) feed at the 5:38 mark to start a flurry of goals to end the period. Gleason scored again with 4:50 left and then assisted on goals by Haley and freshman Scott Davis (St. Thomas Aquinas HS, Overland Park, Kan.) thirty seconds apart. Gleason finished off the spurt with an unassisted goal with 23 seconds left in the quarter.
Fontbonne's Peter Travis stopped the bleeding temporarily with a goal at 5:30 of the second quarter, but Davis scored off another Gleason assist and a Tim Fennelly (Littleton HS, Centennial, Colo.) goal put the Vikings up 8-1 at the half with an assist from Nagelberg.
Augustana extended the advantage to 12-1 after three, with Nagelberg scoring three times in the third and Gleason once.
The teams split six goals in the final period, with Davis, freshman Andrew Miller (Waukesha North HS, Waukesha, Wis.) and sophomore Evan Chikeles (Hoffman Estates HS, Hoffman Estates, Ill.) scoring for the Vikings.
Sophomore Cody Burgdorff (Peak to Peak HS, Lafayette, Colo.) went 56 minutes in goal, recording 11 saves. He got the win to improve to 6-4 on the year. Augustana outshot the Griffins 48-35 and had a 45-28 edge in ground balls.
The Vikings close out the home portion of the 2013 schedule, hosting Elmhurst in a MLC contest at 7:30 on Thursday, April 18 at Thorson-Lucken Field