April 16, 2013
1600-meter relay team gains CCIW recognition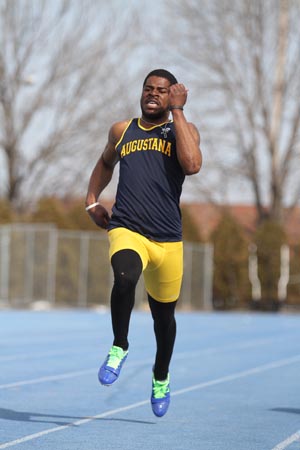 Sophomore Antonio Owens joined the Augustana 4x400 meter relay team at the Western Illinois Lee Calhoun Invitational to help bring home a first place finish. The squad finished with a time of 3:12.82, which currently is the fastest time in NCAA Division III.
ROCK ISLAND, Ill. - The Augustana 1600-meter relay team has been named the "Athlete of the Week" for men's track & field in the College Conference of Illinois & Wisconsin. The relay, which consisted of senior Greg Patton (Bloomington HS, Bloomington, Ill.), sophomore Antonio Owens (Naperville North HS, Bolingbrook, Ill.), sophomore David Voland (Batavia HS, Batavia, Ill.), and senior Alex Rindone (Marmion Academy HS, Geneva, Ill.) placed first at Western Illinois' Lee Calhoun Memorial Invitational on Saturday with a blistering time of 3:12.82.
In a meet that included fierce division I competition, it was the Vikings that were turning heads. Augustana raced ahead of University of Iowa (3:14.15) by a full 1.82 seconds while University of Illinois came in at third with a time of 3:14.58. Their time currently sits as the best time in the nation for NCAA Division III and ranks third all time in Augustana history.
This isn't the first accomplishment that the Vikings' 1600-meter relay squad has recorded for the year. The 1600-meter relay has dominated opposition all season long. During the indoor season, Patton, Voland and Rindone combined with sophomore Keith Cline (Byron HS, Byron, Ill.) to place eighth at the NCAA Division III indoor national championships and earned All-American honors. That same relay also went home as conference champs at the CCIW indoor championships. Owens has replaced Cline during the current outdoor campaign.
Dating back to last year, the Vikings placed second at the NCAA Division III outdoor national championships with a time of 3:10.70, which sits atop the Augustana all-time leader board. That unit was Patton, Voland, Rindone and current senior Daniel Doubet (Galesburg HS, Galesburg, Ill.).
Augustana's 1600 meter relay squad will next see the track at the Meet of Champions at Augustana on Saturday, April 20.