April 15, 2013
Vikings beat the weather and North Central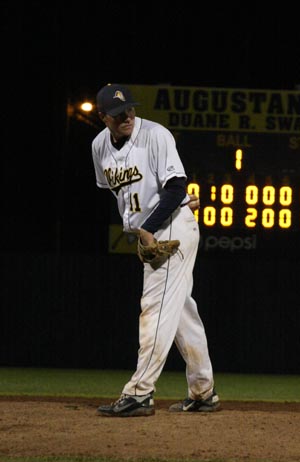 Freshman right-hander Darwin Townsend got Augustana out of a seventh inning jam Monday night and earned his first collegiate win, as the Vikings defeated North Central 3-1 at Swanson Stadium/Brunner Field.
MOLINE, Ill.-Enduring a 44-minute rain delay proved to be well worth the wait for the Augustana baseball team Monday night, as the Vikings defeated North Central 3-1 at Swanson Stadium/Brunner Field. Coach Greg Wallace's team improved to 20-5 on the year and 8-3 in the CCIW. The Cardinals fall to 11-14 overall and 4-8 in the conference.

Augustana not only had to survive the rain delay, which occurred at the end of the third inning, but nine walks by its pitching staff. North Central parlayed two of those base-on-balls, as well as a pair of hits, into its only run in the top of the second.
Cardinal John Ciolkosz led off the frame with a single to center off Viking starter Kevin Hodgman (Neuqua Valley HS, Naperville, Ill.). One out later, Zac Pacanowksi singled Ciolkosz to second. Brad Gerdes and Bobby Norell each drew walks, forcing in a run for a 1-0 North Central lead.
Cardinal starter Jordan Van Dyke faced the minimum through three innings. Jeremy Juhl (Glenbard East HS, Lombard, Ill.) touched him for a two-out single to right center in the third, but was thrown out trying to stretch it into a double. That would be the last action for a while as the teams waited out the rain.
When play resumed, Hodgman retired North Central in the top of the fourth, his final inning of the night.
North Central turned to reliever T.J. Hecimovich in the bottom of the fourth and the Vikings got to him for a pair of runs. Jacob Van Duyne (Wilmington HS, Wilmington, Ill.) led off with a single to right center. Danny Fifer (Lincoln-Way West HS, New Lenox, Ill.) then reached on a failed sacrifice attempt. Hecimovich hit Kurt Schmidt (Grayslake Central HS, Grayslake, Ill.) with a pitch and one out later, Mike Baugh (Sherrard HS, Matherville, Ill.) got plunked to load the bases. On a 3-2 pitch with the runners on the move, Mark VanNatta (Alleman HS, Moline, Ill.) hit a grounder to the right side and beat Hecimovich to first for a hit. Both Fifer and Schmidt scored to give Augustana a 2-1 lead.
Sophomore Eric Egan (Oswego East HS, Aurora, Ill.) relieved Hodgman to start the fifth and kept the Cardinals off the board until running into trouble in the seventh. An error, a double and a walk loaded the bases with one out and Wallace turned to Darwin Townsend (Libertyville HS, Libertyville, Ill.) out of the pen. The freshman right-hander induced a Sam Klein comebacker for a force at the plate and got Gerdes to ground to Schmidt at second to end the inning.
Jeremy Juhl's two-out, RBI single scored pinch-runner Brandon Jasper (Central DeWitt HS, DeWitt, Iowa) with an insurance run in the bottom of the seventh.
Townsend left a pair of Cardinals stranded in the eighth and senior southpaw Rick Erickson (Lake Zurich HS, Hawthorn Woods, Ill.) retired North Central in ninth for his fifth save of the season.
Hodgman gave up two hits and the only Cardinal run in his four innings. He walked five and fanned three. Egan allowed two hits and three walks in 2 1/3 innings. Townsend (1-0) walked one in an inning and two-thirds and was awarded the win, his first as a collegian. Juhl had the only multi-hit game for Augustana, with a pair of singles.
The Vikings face Knox in Galesburg, Illinois on Tuesday, April 16 at 3:00 p.m.