April 13, 2013
Vikings defeat IWU, fall to Webster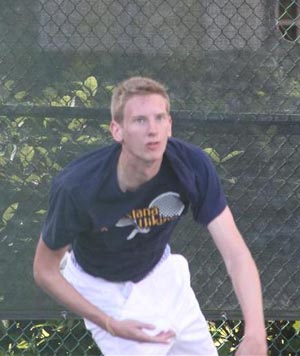 Senior Will Palmer won all three of his matches Saturday. He got victories in both singles and doubles in an 8-1 Viking win over Illinois Wesleyan and picked up a doubles win in Augustana's 5-4 loss to Webster.
BLOOMINGTON, Ill.-Augustana doubles teams won all six of their matches Saturday, but losses in five of six singles matches against Webster cost the Vikings a sweep of Illinois Wesleyan and the Gorloks. Coach Jon Miedema's squad bested Illinois Wesleyan 8-1, but lost a tight 5-4 decision to Webster.

Augustana 8, Illinois Wesleyan 1
Lawrence Palmer (Schiller International School El Prat de Llobregat, Spain), Will Palmer (Schiller International School, Leicester, England), Andy Wall (Notre Dame Academy, De Pere, Wis.) Kevin Bayles (Homewood-Flossmoor HS, Flossmoor, Ill.) and Colin Arnold (Sterling HS, Sterling, Ill.) were all double winners against Illinois Wesleyan.
Lawrence Palmer and Andy Wall delivered an 8-4 win over Brian Sorich and Nick Kenaga at first doubles. Arnold and senior Jack Cullen (Edgewood HS, Madison, Wis.) teamed up for an 8-3 win over Aaron Guenther and Radhakrishnan Ashwin at number two and Will Palmer and Bayles whitewashed Kevin Piotrowski and Genyl Rufino 8-0 at number three.
Lawrence Palmer was a 7-5, 7-5 winner over Sorich at first singles. Harald Olsson (Lidingo, Sweden) suffered the Vikings only loss, falling 1-6, 6-7 to Kenaga at number two. Will Palmer took care of Guenther one and three at third singles and Wall was a 6-3, 6-3 winner over Piotrowski at number four. At number five, it was Bayles over Ashwin, 6-1, 6-2 and Arnold was a 6-1, 6-0 winner over Rufino at sixth singles.
Augustana improved to14-6 overall and 2-0 against CCIW competition.
Webster 5, Augustana 4
Despite decisive wins in all three doubles matchups, Augustana couldn't duplicate that success in singles play and fell to Webster.
Wall and Lawrence Palmer defeated Gorloks Francisco Cortez and Agustin Villallon 8-2 at number one doubles. Cullen and Arnold beat Travis Blare and Rick Eaves 8-1 at number two and Bayles and Will Palmer were 8-1 winners at third doubles over Drego Alaron and Josh Sellmeyer.
Freshman Patrick Lenz (Villanova Prep, Ojia, Calif.) was Augustana's only singles winner, defeating Eaves 6-4, 6-1 at number five. His was also the only singles match to end in two sets as, remarkably, all five Viking losses came in three sets.
Miedema shuffled his lineup, with Olsson moving to first singles, where he lost to Cortez 2-6, 6-3, 1-6. Alaron defeated Wall 6-1, 1-6, 6-3 at number two and Villallon was a 6-4, 4-6, 6-2 winner over Bayles at number three. Cullen fell at fourth singles to Blare 1-6, 6-0, 4-6 and at number six, it was Sellmeyer over freshman Austin Schoeck (Alleman HS, Rock Island, Ill.) 6-3, 2-6, 7-6.
The loss dropped the Vikings to 14-7 on the year, while Webster improved to 17-2.
Miedema's crew hosts Ashford at 4:00 p.m. on Tuesday, April 16.