April 14, 2013
White, VanNatta spark Augustana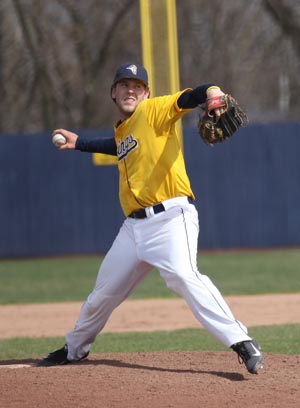 Freshman Walter White threw 4 2/3 innings of scorless relief Sunday to earn the win as Augustana defeated North Park 3-2 at Swanson Stadium/Brunner Field.
MOLINE, Ill.-Freshman Walter White (East Peoria HS, East Peoria, Ill.) went the final 4 2/3 innings Sunday, holding North Park scoreless and making three first-inning runs stand up as Augustana won 3-2 at Swanson Stadium/Brunner Field. The 19th-ranked Vikings improve to 19-5 on the year and 7-3 in the CCIW. North Park falls to 14-12 overall and 7-4 in the league.

After Augustana starter Ben Heaton (Bloomington Central Catholic HS, Heyworth, Ill.) stranded two runners in the top of the first, his teammates staked him to a 3-0 lead in the bottom of the inning. Jacob Van Duyne (Wilmington HS, Wilmington, Ill.) led off with a single to center and stole second one out later. Kurt Schmidt plated him with a double to left and scored himself on a Grant Stewart (Sterling HS, Sterling, Ill.) single. One out later Mark VanNatta (Alleman HS, Moline, Ill.), who had four hits in the contest, doubled down the right field line to score Stewart.
After leaving seven runners stranded through the first four innings, North Park finally got to Heaton in the fifth. The senior right-hander fanned Mike Caduto to start the frame, but gave up a Zak Worsley single and back-to-back walks to Mike Kane and Kyle Williams to load the bases. Joe Belmonte's single scored Worsley to make it 3-1, ending Heaton's day.
White walked the first batter he faced, forcing in a run, but that would be all the visitors would manage against the freshman right-hander. He got Lou Diaz to pop to short and fanned Vince Campanella to end the inning.
Augustana missed several scoring opportunities in the game, stranding runners in scoring position in the second, third, sixth, seventh and eighth innings.
Meanwhile, North Park was doing very little with White. He allowed just two singles and only one North Park runner reached scoring position against him. He set the side down in order in the ninth, fanning Williams to end the game. In 4 2/3 innings, he gave up two hits and a walk and struck out five. He picked up the win to improve to 3-1 on the year.
The Augustana attack was led by VanNatta, who went four for four with three doubles. Van Duyne and Stewart each finished two for three.
The Vikings are back in action on Monday April 15, facing North Central in a contest that was originally scheduled for last week, but was postponed by inclement weather. First pitch at Swanson/Brunner is scheduled for 6:00 p.m.