April 14, 2013
25th ranked Vikings swept by Carthage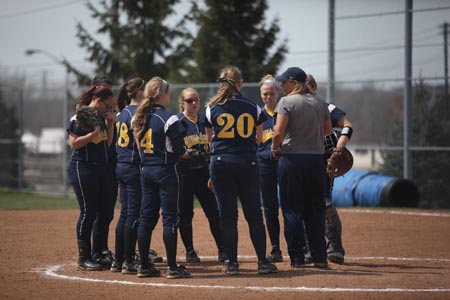 Augustana head coach Kris Kistler discusses strategy with her team during the Carthage double header on Sunday.
ROCK ISLAND, Ill. - Augustana, ranked 25th in NCAA Division III heading into the weekend, dropped a College Conference of Illinois & Wisconsin double header on Sunday, April 14 to Carthage by scores of 14-3 and 4-3 at Carver Field. The Vikings are now 19-9 overall and 4-4 in the league while Carthage is 19-5 and 6-0.

GAME #1 - CARTHAGE 14, AUGUSTANA 3
The Lady Reds smacked 14 hits and used a pair of five run innings to post a 14-5 victory over Augustana in the first game of a CCIW double header. Carthage pitcher Krystina Leazer went the distance (six innings) and allowed just six hits while striking out four.
Six Carthage players collected two hits, including Olivia Scott, who had a home run and Vicki Pyan, who produced two doubles. Junior Krista Watson (Coal City HS, Coal City, Ill.) had a two run home run in the third inning and she had also added another hit to lead the Viking attack.
GAME #2 - CARTHAGE 4, AUGUSTANA 3
Abby Hanson clubbed a two-run home run to left-center field off Augustana starter Ashley Anderson (Sherrard HS, Viola, Ill.) in the bottom of the seventh inning to give Carthage a 4-3 victory over the Vikings and a sweep of the CCIW twin-bill.
Anderson battled through six innings against the potent Lady Red offense and took a 3-2 lead into the bottom of the seventh. She gave up a leadoff single to Katie Morman and then Hanson hit her game-winner.
The Vikings got on the board first when sophomore Laura Behnke (Wheaton St. Francis HS, Roselle, Ill.) singled to lead off the game. She eventually scored on a single by junior Chaney Tambling (Dwight HS, Dwight, Ill.) to make it 1-0.
Carthage answered with single runs in the second and third off Anderson before Augustana put two on the board in the top of the fourth. Junior Jaime Rehmert (Sterling HS, Sterling, Ill.) singled to lead off and gave way to pinch-runner Kendra Rakers (Belleville West HS, Millstadt, Ill.). Tambling sacrificed Rakers to second and Anderson helped her own cause by singling Rakers to third. Anderson scampered to second on the throw that held Rakers at third. A single from Amanda Johnson (York HS, Elmhurst,Ill.) scored Rakers and moved Anderson to third. Anderson then came home on a double down the right field line by freshman Cheyenne Burnett (Rock Falls HS, Rock Falls, Ill.).
At this point in the game Leazer, the game one winner, came out of the bullpen to relieve Carthage starter Tina Campbell. Leazer would quiet the Viking bats, allowing just three hits and no runs while striking out five the rest of the way. She was credited with the victory after Hanson hit her game winning home run.
Anderson was tagged with the loss and dropped to 6-3 on the season. She gave up 11 hits but had only allowed two runs prior to the seventh inning.
Behnke, Rehmert and Burnett all had two hits for Augustana.