April 14, 2013
Augustana wins 23-2 over MSOE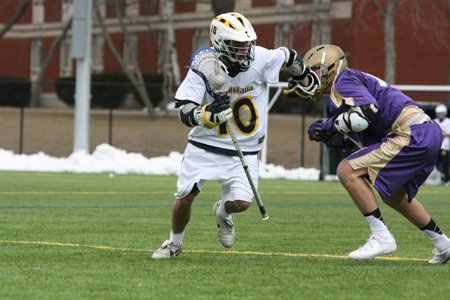 Freshman Jonathan Bryk had two goals and three assists Sunday as Augustana defeated Milwaukee School of Engineering 23-2 at Thorson-Lucken Field.
ROCK ISLAND, Ill. - Augustana led 8-0 at the quarter and 13-1 at the half Sunday and cruised to a 23-2 win over Milwaukee School of Engineering at Thorson-Lucken Field. The Vikings set a program record for goals in a game in improving to 7-4 overall and 4-1 in the Midwest Lacrosse Conference. The Raiders fall to 0-9 overall and 0-7 in the league.

Freshman Kevin Gleason (Loyola Academy, Chicago, Ill.) scored six goals - all in the first half - including three in a three-minutes span to close out the first half scoring. Freshman Andrew Miller (Waukesha North HS, Waukesha, Wis.) had two goals before halftime as well. The Vikings' other five goals in the opening half were scored by five different players. Brett Finnegan scored MSOE's only first-half goal 19 seconds into the second quarter.
Coach Kyle Hart got valuable playing time for his bench in the second half. Sophomore Brad Anderson (Arrowhead HS, Hartland, Wis.) scored two of his three goals, Miller added his third goal and second assist of the day and freshman Jonathan Bryk (Fremd HS, Palatine, Ill.) scored his second goal of the day and dealt out three assists, all after halftime.
In addition to Gleason, Anderson, Miller and Bryk, multiple goal scorers for Augustana included sophomores Vincent Giglierano (Archbishop Mitty HS, San Jose, Calif.) and Evan Chikeles (Hoffman Estates HS, Hoffman Estates, Ill.) and freshman Austin Marrison (Palatine HS, Palatine, Ill.) each of whom scored twice.
Freshman Jerrell Collymore (Homewood Flossmoor HS, Flossmoor, Ill.) won 11 of 19 faceoffs. Sophomore Doug Barrie (Lake Forest HS, Lake Forest, Ill.) tied Miller with a team-high four caused turnovers and Miller and freshman Daniel Fulton (East HS, Denver, Colo.) each snared a team-best five ground balls.
Hart used three goalkeepers in the contest. Freshman Jack Peters (Maine South HS, Park Ridge, Ill.) started and went 34-plus minutes, recording two saves and allowing both Raider goals. Sophomore Jon Pape (Hoffman Estates HS, Hoffman Estates, Ill.) recorded five saves in 23 scoreless minutes before being relieved by freshman Brad Dodge (Lyons Township HS, LaGrange Park, Ill.).
The Vikings are back at Thorson-Lucken Field on Tuesday April 16 to face Fontbonne in a game that was originally scheduled for last week, but postponed by inclement weather. Opening faceoff is scheduled for 4:30 p.m.