April 13, 2013
Vandersee, Lawrence compete at Millikin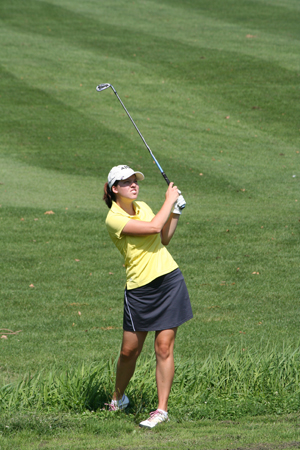 Senior Megan Vandersee tied for ninth place at this weekend's Millikin Spring Invitational in Decatur, Illinois.
DECATUR, Ill. - Senior Megan Vandersee (Sterling HS, Sterling, Ill.) and junior Jamie Lawrence (Moline HS, Moline, Ill.) competed this weekend at the Millikin Spring Classic at Scoville Golf Course. Both Vikings fared well, with Vandersee finishing in a tie for ninth and Lawrence placing 15th among more than 50 individuals.

Vandersee shot an opening-round 89 on Friday and followed it up with a 91 on Saturday. Her two-round total of 180 tied her with Millikin's Codi Gramlich. Lawrence shot a 184 for the weekend. She carded a 94 on Friday and a 90 on Saturday.
Gabbie Schuerman (79-80 - 159) of the host school took individual medalist honors.
On Thursday, April 18, Coach Pam Tyska's Vikings will be hosting the Augustana Spring Invitational at Emeis Golf Course in Davenport, Iowa.