April 13, 2013
Two relays post nation's best times at WIU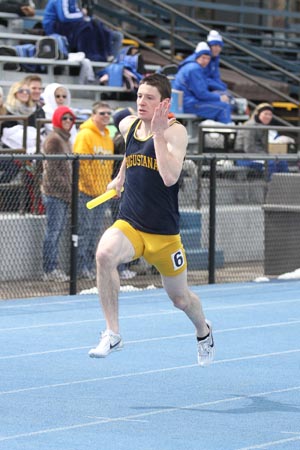 Senior Alex Rindone anchored the 400 (:41.73) and 1600 (3:12.82) relay teams to victory on Saturday at the Lee Calhoun Memorial Invitational with the fastest times in the nation in NCAA Division III this season.
MACOMB, Ill. - Led by three relay victories, including two units that posted the fastest NCAA Division III times in the nation, the sixth ranked Augustana men's track & field team enjoyed a tremendous performance at the Lee Calhoun Memorial Invitational on Saturday, April 13 in Macomb, Illinois. The Vikings placed fourth in the team standings with 86.50 points, trailing only the NCAA Division I trio of Illinois (178), Iowa (170.50 and Western Illinois (95.5).

Tying for fourth with Augustana was Marquette with 86.50 points while Lincoln College (53), St. Ambrose (46), WIU Alumni (39), DePaul (34) and Monmouth (30) rounded out the top 10. The rest of the 20-team field consisted of Hawkeye Track Club (24), Illinois-Chicago (22), Northern Iowa (18), Bradley (12), Knox (12), Adams State (8), Culver Stockton (8), Chicago State (7), Illinois State (6) and Hannibal-LaGrange (4).

The Vikings won the 400, 1600 and 3200 relays with the 400 and 1600 units posting the top times in the nation at the NCAA Division III level. The 400 unit of sophomore David Devore (Midland HS, Midland, Mich.), senior Greg Patton (Bloomington HS, Bloomington, Ill.), sophomore Keith Cline (Byron HS, Byron, Ill.) and senior Alex Rindone (Marmion Academy, Geneva, Ill.) won with a clocking of :41.73. The 1600 team of Patton, sophomore Antonio Owens (Naperville North HS, Bolingbrook, Ill.), sophomore David Voland (Batavia HS, Batavia, Ill.) and Rindone scorched the track with a time of 3:12.82.

The 3200 team of sophomore Vincenzo Dal Pozzo (Neuqua Valley HS, Naperville, Ill.), junior Edgar Valle (Kaneland HS, Elburn, Ill.), freshman Cale McCormick (Mahomet-Seymour HS, Mahomet, Ill.) and junior Chris Madison (Downers Grove South HS, Downers Grove, Ill.) won in 7:53.84.

Patton had the best individual finish for the Vikings with a second place in the 400 in :48.52 with Voland taking fourth in :48.81. Rindone was fourth in the 200 in :21.84 and Cline was sixth in the 100 in :11.01. Dal Pozzo took seventh in the 800 in 1:55.82.

The 800 relay of senior Floyd Mays (Mooseheart HS, Justice, Ill.), freshman Garrett Miner (Moline HS, Moline, Ill.), sophomore Rob McNeil (Bloomington Central Catholic HS, Normal, Ill.) and freshman Kyle Cluver (Waubonsie Valley HS, Aurora, Ill.) finished third in 1:33.88. The 1600 sprint medley unit of Mays, Miner, senior Daniel Doubet (Galesburg HS, Galesburg, Ill.) and junior Cody Sharko (York HS, Elmhurst, Ill.) took fifth in 3:44.76.

Freshman Ethan Koch (Prospect HS, Mt. Prospect, Ill.) finished fourth in the 10,000 in 33:44.95. Sophomore Kyle Bennett (Davenport West HS, Davenport, Iowa) was seventh in the 400 hurdles in :56.62.

In the javelin the Vikings got a fifth from sophomore Alec Seymour (Riverton HS, Riverton, Ill.) at 155' 9", a seventh from senior Luke Anderson (Lemont HS, Lemont, Ill.) at 154' 2" and an eighth from senior Mike Anderson (Richmond-Burton HS, Spring Grove, Ill.) at 149' 10".

Sophomore Jeff Padesky (Moline HS, Moline, Ill.) cleared 14' 7 ¼" to take sixth in the pole vault. Senior Jacob O'Rourke (Davenport Assumption HS, Bettendorf, Iowa) was seventh in the long jump with a leap of 20' 11 ¼" and senior Kevin Macek (Carl Sandburg HS, Orland Park, Ill.) was seventh in the shot put with a toss of 48' 7 ½".

Augustana will host the Meet of Champions on Saturday, April 20 at the Paul V. Olsen Track.