April 13, 2013
Schmidt's long ball helps Augustana split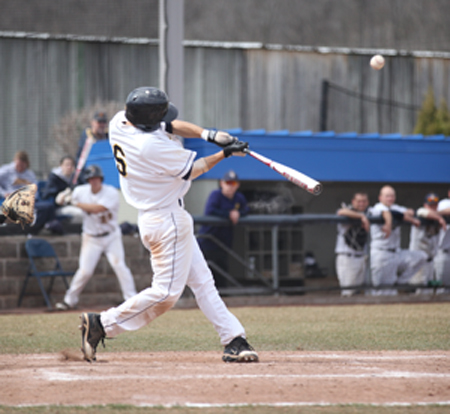 Senior second baseman Kurt Schmidt had four hits, including a homer and a double Staurday as the 19th-ranked Vikings split a doubleheader at North Park.
CHICAGO, Ill.-Kurt Schmidt (Grayslake Central HS, Grayslake, Ill.) had three hits, including his second home run of the year, in the opener Saturday to lead Augustana to a 7-6 win at North Park. The 19th-ranked Vikings dropped the second game of the twin bill 3-1 and are now 18-5 overall and 6-3 in the CCIW. North Park is 14-11 on the year and 7-3 in the league. The teams meet for a single game at Swanson Stadium/Brunner Field on Sunday, April 14 at 1:00 p.m.

Game One - Augustana 7, North Park 6
Senior reliever Rick Erickson (Lake Zurich HS, Hawthorn Woods, Ill.) pitched out of a ninth-inning jam to save game one for starter Jared McIntosh (Assumption HS Davenport, Iowa).
After freshman Darwin Townsend (Libertyville HS, Libertyville, Ill.) relieved McIntosh with a runner at second in the eighth and retired three straight North Park batters, Coach Greg Wallace turned to Erickson in the ninth. Nursing a 7-5 lead, Erickson issued a leadoff walk to Rick DiVito, but followed with back-to-back strikeouts of Mike Coduto and Zak Worsley. A wild pitch, another walk and an RBI single by Kyle Williams got the hosts to within a run, but Erickson fanned pinch-hitter Nicholas Burger to end the game and earn his fourth save of the season. McIntosh got the win to improve to 5-2 on the year.
Augustana scored two in the first on Grant Stewart's (Sterling HS, Sterling, Ill.) RBI single and Schmidt's run that scored on a wild pitch. The hosts answered with one in the second and three in the third to go up 4-2.
Jacques Camalick (Hinsdale Central, Burr Ridge, Ill.) got a leadoff double and scored in the fourth. Schmidt's two-run homer in the fifth put the visitors ahead and Jeremy Juhl's (Glenbard East, Lombard, Ill.) RBI double in the sixth gave Augustana a 6-4 lead. North Park cut it to 6-5 with a run in the bottom of the sixth, but Nick Tenerelli's (Downers Grove South HS, Downers Grove, Ill.) RBI double in the eighth pushed the margin back to two runs.
McIntosh gave up seven hits in seven innings of work. Four of the five runs he allowed were earned. He walked two and struck out four. Schmidt was three for five with two runs scored and a pair driven in. Juhl had two hits, a run scored and one knocked in.
Game Two - North Park 3, Augustana 1
Augustana couldn't take advantage of another outstanding performance from Seth Davis (Mullen HS, Aurora, Colo.) in the nightcap. Te sophomore lefty went the distance, allowed seven hits and just one earned run, struck out 12 and issued just one walk. He suffered his first loss after four wins.
Augustana grabbed a 1-0 lead in the third. Jacob Van Duyne (Wilmington HS, Wilmington, Ill.) got a one-out single, stole second and scored on Danny Fifer's (Lincoln-Way West HS, New Lenox, Ill.) double to left. That would be all the offense Augustana would manage against North Park starter Wes Mleziva, who went seven innings and got the win.
The hosts came right back with two unearned runs in the bottom of the third. After leadoff batter Joe Belmonte reached on an error, Caduto and Williams delivered RBI singles. Davis escaped further damage by coaxing a bases-loaded comebacker to end the inning.
The visitors left runners at second base in both the fifth and sixth. They left two runners stranded in the seventh when Tenerelli was cut down at home trying to score on a Fifer single, ending the inning.
A walk a Lou Diaz double scored North Park's final run in the eighth.
John Nemcek went the final two innings for North Park to earn his first save.
Fifer had two of Augustana's five hits and Schmidt added a game-two double to his performance in the opener.