April 13, 2013
Augustana remains unbeaten in MWLC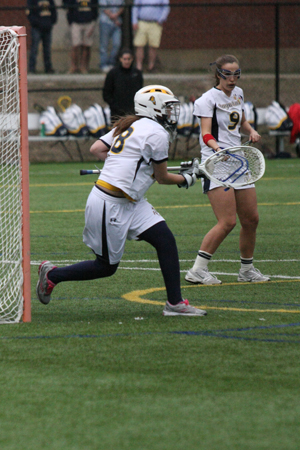 Sophomore goalkeeper Sarah Osier recorded five saves while allowing just one goal in a half of action Saturday as Augustana defeated Mount St. Joseph 19-6 in Cincinnati, Ohio.
CINCINNATI, Ohio - After a slow start at Otterbein on Friday, Augustana wasted no time in jumping on Mount St. Joseph Saturday afternoon, scoring the game's first 10 goals on the way to a 19-6 win. The Vikings improve to 10-3 on the year and 5-0 in the Midwest Women's Lacrosse Conference, while the Lions fall to 5-5 overall and 2-3 in the league.

Sophomore Hilary Kargl (Sacred Heart Academy. Louisville, Ky.), who had five goals for the second straight game, got Augustana on the board with an unassisted goal at the 27:19 mark of the first half. Freshman Rebecca Pollard (Westfield HS, Carmel, Ind.) and sophomore Christina Letmanksi (Glenbard West HS, Wheaton, Ill.) followed with goals, both assisted by Kargl. Letmanksi scored again at 16:10 to put the visitors up 4-0.
After freshmen Emily Handrahan (Lake Zurich HS, Hawthorn Woods, Ill.) and Shelby Cosman (Marian Catholic HS, St. John, Ind.) each scored to push the lead to 6-0, sophomore Allie Roehrenbeck (Columbus Academy, Gahanna, Ohio) sandwich a pair of goals around two by Kargl and it was 10-0 Augustana. Kaci Overly got Mount St. Joseph on the board with a free position goal with 30 seconds left in the half.
The Lions' Chrissy O'Hara opened the second half with a goal to cut the margin to 10-2, but the Vikings responded with three straight scores, two by Kelly Stelzer (Wheaton Warrenville South HS, Wheaton, Ill.) and one by Roehrenbeck, to re-establish control.
Freshmen Kendall Maduro (Neuqua Valley HS, Naperville, Ill.), Quinn Foley (Sandburg HS, Orland Park, Ill.) and Cori Duncan (York HS, Elmhurst, Ill.) added late goals for Augustana and Kargl scored two more as well.
In addition to her five goals, Kargl added three assists. Roehrenbeck found the net four times. Maduro led the way with three caused turnovers. Sophomore Sarah Osier (Naperville Central HS, Naperville, Ill.) played the first half in goal and recorded five saves. Freshman Jenna Hoffman (Columbine HS, Littleton, Colo.) recorded one save in the second half.
On Tuesday, April 16, North Central visits Thorson-Lucken Field in a 7:30 p.m. matchup of league leaders. The teams are currently tied atop the MWLC standings at 5-0. The Cardinals are 7-3 overall this season.