April 13, 2013
Vikings pull away for 14-5 win over Hanover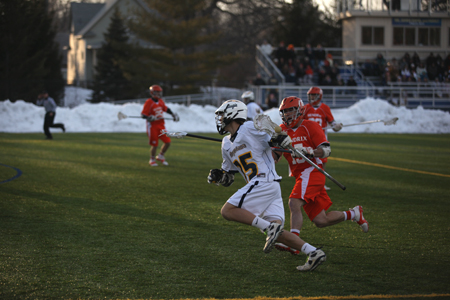 Freshman Scott Davis scored five goals and added an assist Staurday as Augustana defeated Hanover 14-5 at Thorson-Lucken Field.
ROCK ISLAND, Ill.-Augustana scored the first five goals of the second half Saturday, breaking open a tight game and pulling away to a 14-5 win over Hanover at Thorson-Lucken Field. Freshman Scott Davis (St. Thomas Aquinas HS, Overland Park, Kan.) and sophomore Jesse Nagelberg (St. Charles East HS, St., Charles, Ill.) each scored twice in the Vikings' third-quarter spurt. Augustana improved to 6-4 overall and 3-1 in the MLC. Hanover dropped to 3-9 on the year and 2-5 in the conference.

Augustana led just 4-3 at the half, but after eight and a half scoreless minutes to start the third quarter, Nagelberg scored two goals - the first on an assist from sophomore Colin Haley (St. Charles East HS, St. Charles, Ill.) - in a span of less than two minutes to put the hosts up 6-3. Davis added a pair of goals and sophomore Doug Barrie one before Hanover's Daniel Mains scored the final goal of the period to make it 9-4 Vikings.
Freshman Kevin Gleason (Loyola Academy, Chicago, Ill.) got an assist from Haley and found the net to start the fourth-period scoring. Davis scored twice and sophomore Tim Fennelly (Littleton HS, Centennial, Colo.) once before Gleason scored his third goal of the day and 26th of the season to round out Augustana's scoring. Panther Nick Hermes found the net with 1:29 left to account for the final.
Davis put the Vikings on top 1-0 barely a minute in with the help of a Vincent Giglierano (Archbishop Mitty HS, San Jose, Cal.) assist. Nagelberg added an unassisted goal less than a minute later. After Matt Weber scored for Hanover, Gleason scored on a beautiful behind the head shot to put Augustana up 3-1 after one quarter.
Andrew Miller's (Waukesha North HS, Waukesha, Wis.) fifth goal of the season off a Davis assist made it 4-1 before Weber scored twice to cut the Viking lead to 4-3 at the break.
Davis finished the day with five goals and now leads Augustana with 30 on the year. Nagelberg and Gleason each scored three times and Haley doled out three assists. Sophomore Cody Burgdorff (Peak to Peak HS, Lafayette, Colo.) made eight saves in goal. Sophomores Andrew Jurewicz (St. Charles East HS, St. Charles, Ill.) and Ty Benson (Libertyville HS, Libertyville, Ill.) led the Vikings with seven ground balls and four caused turnovers, respectively.
Coach Kyle Hart's club is back in action on Sunday, April 14. Milwaukee School of Engineering visits Thorson-Lucken Field for a 1:00 p.m. start.