April 12, 2013
Vikings win 15-6 at Otterbein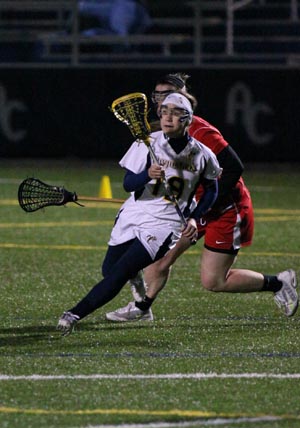 Sophomore Hilary Kargl scored five goals and added an assist Friday as Augustana defeated Otterbein 15-6 in Wetserville, Ohio.
WESTERVILLE, Ohio - Augustana scored 11 second-half goals to break open what had been a tight game and get a 15-6 win at Otterbein Friday. The Vikings improve to 9-3 on the year, while the Cardinals drop to 5-5.

Otterbein's Alyssa Johnson tied the contest at 4-4 with an unassisted goal four minutes into the second half. Less than a minute later however, sophomore Kelly Stelzer (Wheaton Warrenville South HS, Wheaton, Ill.) gave the visitors back the lead, scoring off an Emily Handrahan (Lake Zurich HS, Hawthorn Woods, Ill.) assist. An unassisted Christina Letmanski (Glenbard West, Wheaton, Ill.) goal and one from Kaylee Nolan (Sandburg HS, Orland Park, Ill.) off another Handrahan helper put the Vikings up 7-4 with 18:36 to play.
Otterbein's Victoria Blatt stemmed the tide temporarily with an unassisted goal at the 17:00 mark, but freshman Kendall Maduro (Neuqua Valley HS, Naperville, Ill.) scored the first of eight straight Augustana goals that put the game away. Letmanski assisted on Maduro's goal and scored the next one herself. Sophomore Hilary Kargl (Sacred Heart Academy, Louisville, Ky.) scored four of the team's next five goals and assisted on the other, with Stelzer finding the net.
Nolan wrapped up the Vikings' scoring with an unassisted goal just inside two minutes and the Cardinals' Rebecca Carter scored 20 seconds later to account for the final.
Sophomore Allie Roehrenbeck (Columbus Academy, Gahanna, Ohio) gave Augustana a 1-0 with a goal at the 22:34 mark of the first half. Shannon Back and Courtney Hilfinger answered with goals at 18:43 and 15:36 to put the hosts ahead 2-1.
The Vikings still trailed 3-2 after freshman Rebecca Pollard (Westfield HS, Carmel, Ind.) and Otterbein's Kayle Quinter traded goals, but Kargl and Letmanski each scored in the final minute of the opening half to give Augustana a 4-3 advantage at the break.
Kargl finished the game with five goals and an assist, while Handrahan dished out a team-high four assists. Letmanski had three goals and two assists, Stelzer two goals and two assists and Nolan a pair of goals. Sophomore Sarah Osier (Naperville Central HS, Naperville, Ill.) and freshman Jenna Hofmann (Columbine HS, Littleton, Colo.) split time in goal, allowing three scores each. Hofmann recorded eight saves and Osier a pair.
Augustana now travels to Cincinnati, Ohio for a noon contest against Mount St. Joseph on Saturday, April 13.