Play "subUrbia" to chronicle the unexamined life
Talkbacks will take place after the April 26 and May 4 performances.
April  12, 2013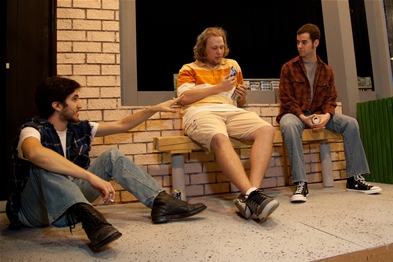 From left, John D'Aversa (Tim), Joshua Malone (Buff) and Bill Cahill (Jeff)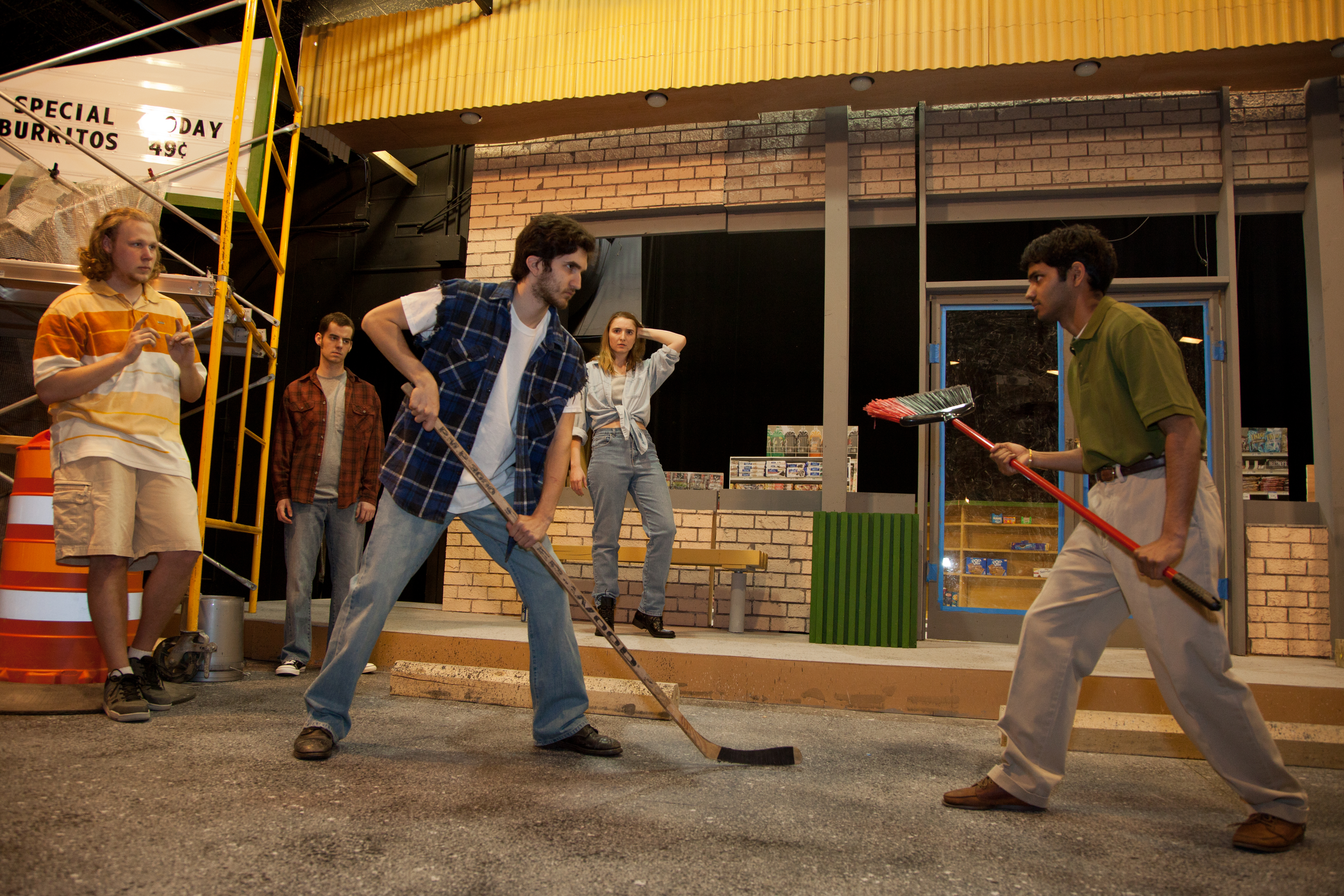 From left, Joshua Malone (Buff), William Cahill (Jeff), Aubrey Waddick (Sooze) and Darshan Hullon (Nazeer)
The Augustana College Department of Theatre Arts will present Eric Bogosian's subUrbia, the final production of its 2012-2013 season, Balancing Acts. The show will be presented in Potter Theatre, Bergendoff Hall of Fine Arts (3701 7th Ave.), April 26-27 and May 3-4 at 7:30 p.m. and on April 28 and May 5 at 1:30 p.m.
Tickets are $11 for the public and $9 for senior citizens, students and Augustana faculty/staff.
The story focuses on three men in their early 20s who spend much of their time in the parking lot of a convenience store in the fictional town of Burnfield. They talk trash, revel in their high school glory days and harass the Pakistani owner of the store. The turning point of this evening is the arrival of an old high school friend who has gone on to become a semi-famous musician, has an album on the charts and a video on MTV.
In the course of the evening, all of the friends congregate in the parking lot and tension mounts as they all realize things are never the same as they once were. The building tension between the friends continues late into the night as relationships are made, tested and broken. As the next day dawns, some of the group have found their way out of Burnfield while the rest are left to deal with a tragedy that could have been any one of them.
"One of the things I really love about this play is that its themes are just as relevant today as they were when it was written in the early 90s," said Jo Vasquez '13, a psychology and theatre arts major from La Salle, Ill.
Kaitlin Ross '13, a theatre arts major from Rockford, Ill., who serves as the production's dramaturg, said, "subUrbia is a show that will not only shock you, make you laugh or make you cry, but it will also stay with you long after the final curtain call. This is a show that you can relate to in so many ways, and will leave you thinking about your life for a long time to come."
"Our hope with this play is that it sparks conversation: about the young people in our own lives who feel hopeless, and how to help them, and create a brighter future with them than the one they can envision for themselves. In the end, we hope that the audience sees why this conversation is an important one to have," said director Dr. Jennifer Popple, fellowship instructor at Augustana.
Tickets can be purchased through the Augustana Ticket Office by calling (309) 794-7306 or by visiting augustana.edu/tickets.
Sam Schlouch
Senior Communication Director
(309) 794-7833
samschlouch@augustana.edu