April 11, 2013
Augustana women move into top ten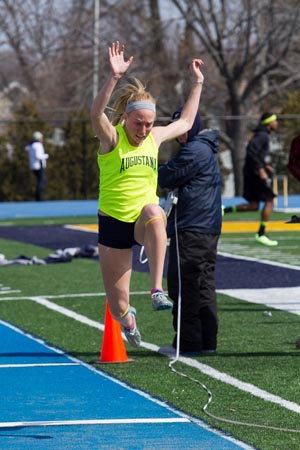 Astin Moravek and her Augustana teammates have jumped into the top ten of the NCAA Division III dual meet power rankings. The Vikings moved up one spot in the poll and collected 144.24 points.
ROCK ISLAND, Illinois - The Augustana women's track & field team has put together an impressive season to date. The Vikings' efforts have propelled themselves into the top ten in the latest NCAA Division III dual meet power rankings. Head coach Fred Whiteside's team jumped up from one spot by compiling 144.24 points, up from 123.06 points last week.

The poll, which is conducted by the U.S. Track & Field and Cross Country Coaches Association, quantifies the depth of each team. The team's total score is the sum of all points earned in each event. Two individual athletes are scored per event, as well as one relay team. The points are based on the best marks of an event in the current season, with the faster times and farther distances worth more.
Augustana is coming off a second place finish at the Wartburg Select Invitational in Waverly, Iowa on April 6. The Vikings were led by individual victories from Sarahbeth Jones (Warren HS, Wadsworth, Ill.), Johanna Schnitzler (Downers Grove South HS, Woodridge, Ill.), and Astin Moravek (Riverside Brookfield HS, Riverside, Ill.). Augustana amassed 122 points which trailed only the host team's total of 350.5 points.
Ithaca jumps from third to first in the newest rankings with 170.80 points. That score narrowly eclipses the total of last week's poll leader, Claremont-Mudd-Scripps and their score of 170.42 points. Ohio Wesleyan (161.67) moves into third in the latest poll with SUNY Cortland (159.68) and California Lutheran (158.23) rounding out the top five.
Augustana has started the outdoor season in excellent fashion, finishing in the top three at every meet thus far. The Vikings opened the season with a first place finish at the Viking Olympics on March 23 and placed third the following week at the Augustana Open. The Vikings scored 211 points at the Viking Olympics, easily outdistancing the competition in the 10 team event. At the Augustana Open, Augustana recorded 199.83 points to finish third in the seven team meet.
Next on Augustana's schedule is the Luther Norse Relays in Decorah, Iowa on Saturday, April 13. The meet is scheduled to begin at 11:00 a.m.
2013 NCAA DIVISION III OUTDOOR DUAL MEET POWER RANKINGS
Sponsored by the USTFCCA ** As of 04/02/2013 ** POLL #2
| | | | |
| --- | --- | --- | --- |
| RANK | SCHOOL | REGION | POINTS |
| | | | |
| 1. | Ithaca | Atlantic | 170.80 |
| 2. | Claremont-Mudd-Scripps | West | 170.42 |
| 3. | Ohio Wesleyan | Great Lakes | 161.67 |
| 4. | SUNY Cortland | Atlantic | 159.68 |
| 5. | California Lutheran | West | 158.23 |
| 6. | North Central | Midwest | 155.46 |
| 7. | Nebraska Wesleyan | Central | 148.84 |
| 8. | Bates | New England | 145.81 |
| 9. | Rochester | Atlantic | 145.02 |
| 10. | AUGUSTANA | Midwest | 144.24 |
- Story by student assistant Paul Hurd