April 11, 2013
Vikings remain ranked sixth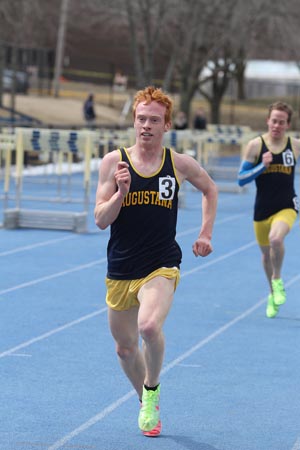 Freshman Keith Sands has been impressive for the Vikings all season long as he took home a second place finish in the 1500 at the Wartburg Select on April 6. Augustana will next compete at the Western Illinois Invitational on Friday, April 12 and Saturday, April 13 in Macomb, Illinois.
ROCK ISLAND, Illinois - The Augustana men's track & field team continues to impress as it is ranked sixth in the most recent NCAA Division III dual meet power rankings. The Vikings' 176.83 points, up from 158.99 points last week, was good enough to keep Head coach Paul Olsen's squad in the top ten.

The poll, which is conducted by the U.S. Track & Field and Cross Country Coaches Association, quantifies the depth of each team. The team's total score is the sum of all points earned in each event. Two individual athletes are scored per event, as well as one relay team. The points are based on the best marks of an event in the current season, with the faster times and farther distances worth more.
The Vikings are recently coming off a victory at the Wartburg Select Invitational in Waverly, Iowa on April 6. Augustana brought home five individual and two relay winners to give the Vikings a score of 205.50 points and a slim margin over Wartburg who finished with 203 points. The win gives Augustana a perfect résumé thus far into the outdoor season with three first place finishes.
North Central jumps atop the rankings with 194.23 points while Claremont-Mudd-Scripps (191.88) follows closely behind. Wabash (187.92) moves to third with SUNY Cortland (181.39) and Lynchburg (179.23) rounding out the top five of the rankings.
The Vikings have already had a great start to the outdoor season with team victories at the Viking Olympics on March 23 at Augustana, and the Augustana Easter Open on March 28. Augustana's score of 283.5 points at the Viking Olympics nearly doubled the second place finisher in the 10 team invitational. At the Augustana Easter Open, the Vikings finished with a total of 296.80 points to give them the clear victory over the eight team field. En route to their win, the Vikings brought home nine event winners.
Augustana will head to the Western Illinois Invitation on Friday, April 12 and Saturday, April 13 in Macomb, Illinois. The meet is scheduled to begin at 4:00 p.m. on Friday and resume at 9 a.m. on Saturday.
2013 NCAA DIVISION III OUTDOOR DUAL MEET POWER RANKINGS
Sponsored by the USTFCCA *** As of 04/09/13 *** POLL #2
| | | | |
| --- | --- | --- | --- |
| RANK | SCHOOL | REGION | POINTS |
| 1. | North Central | Midwest | 194.23 |
| 2. | Claremont-Mudd-Scripps | West | 191.88 |
| 3. | Wabash | Great Lakes | 187.92 |
| 4. | SUNY Cortland | Atlantic | 181.39 |
| 5. | Lynchburg | South | 179.23 |
| 6. | Augustana | Midwest | 176.83 |
| 7. | Christopher Newport | South | 172.44 |
| 8. | Redlands | West | 169.38 |
| 9. | Ohio Wesleyan | Great Lakes | 167.94 |
| 10. | SUNY Oneonta | Atlantic | 167.36 |