April 10, 2013
7-2 win over Cornell lifts Vikings to 13-6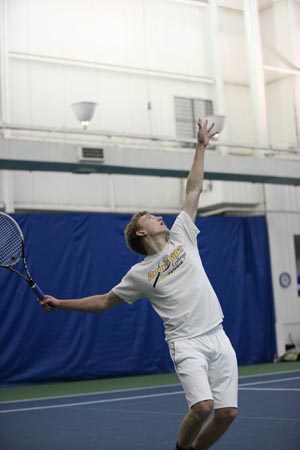 Sophomore Lawrence Palmer won at number one singles and number one doubles in the Vikings' 7-2 win over Cornell on Wednesday night in Mt. Vernon, Iowa. Palmer is now 14-8 in singles and 13-11 in doubles this year.
MT. VERNON, Iowa - Despite a time delay caused by weather in the Midwest, Augustana was not affected on Wednesday, April 10 in a 7-2 non-conference men's tennis victory over Cornell at the Small Multi-Sport Center Arena in Mt. Vernon, Iowa. The Vikings, ranked 18th in the NCAA Division III's Central Region, won for the fifth straight time this year since a 6-3 loss to St. Mary's on March 23 to move their overall record to 13-6.

Sophomore Lawrence Palmer (Schiller International School, El Prat de Llobregat, Spain) continued his strong play of late as he won at both number one singles and number one doubles. In singles he defeated Garrett Russikoff 6-1; 7-5 to move his individual mark to 14-8. Earlier in the match he teamed with junior Andy Wall (Notre Dame Academy, DePere, Wis.) to beat Russikoff and Orion Wilkinson 8-3. Wall picked up a singles win at number four, defeating Joseph Gelfand 6-2; 6-0.
Senior Jack Cullen (Edgewood HS, Madison, Wis.) and junior Colin Arnold (Sterling HS, Sterling, Ill.) won at number two doubles by a score of 8-3 over Justin Bradfield and Tyler Shonkwiler. Senior Will Palmer (Schiller International School, Leicester, England) and junior Kevin Bayles (Homewood-Flossmoor HS, Flossmoor, Ill.) beat Ben Williamson and Ashan DeSilva at number three by the score of 8-5 as the Vikings took a 3-0 lead coming out of doubles.
Bayles moved his record to 13-10 with a 6-1; 6-1 win over Williamson at number five and Cullen handled Shonkwiler 6-4; 6-2 at number six to move to 9-6.
At number two singles freshman Harald Olsson (Lidingo, Sweden) dropped a 6-3; 1-6; 5-10 decision to DeSilva and Will Palmer fell to Bradfield 1-6; 1-6.
Augustana will play Illinois Wesleyan and Webster on Saturday, April 13 in Bloomington, Illinois.