April 9, 2013
Vikings beat Monmouth for 15th straight time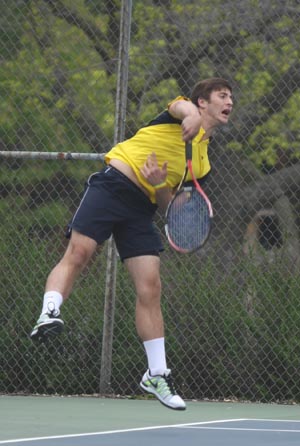 Junior Colin Arnold won at number six singles and number two doubles as Augustana defeated Monmouth 7-2 on Tuesday, April 9 in Monmouth, Illinois. The Vikings have won 15 straight meets against the Fighting Scots, dating all the way back to 1964.
MONMOUTH, Ill. - Augustana ran its men's tennis record to 12-6 with a convincing 7-2 victory over Monmouth on Tuesday, April 9 in Monmouth, Illinois. The Vikings have now won 15 matches in a row over the Fighting Scots with the last loss coming in 1964.

The Vikings jumped off to a 3-0 lead after doubles thanks to a sweep of the three matches. Sophomore Lawrence Palmer (Schiller International School, El Prat de Llobregat, Spain) and junior Andy Wall (Notre Dame Academy, De Pere, Wis.) picked up a hard-fought 9-7 victory over David Johnson and David Stewart at number one. Freshman Harald Olsson (Lidingo, Sweden) and junior Colin Arnold (Sterling HS, Sterling, Ill.) beat Chris Franco and Marco Franco 8-4 at number two. Senior Jack Cullen (Edgewood HS, Madison, Wis.) and junior Kevin Bayles (Homewood-Flossmoor HS, Flossmoor, Ill.) took care of Alex King and Andrew Shiakallis at number three by a score of 8-1.
Lawrence Palmer beat Chris Franco at number one singles 6-1; 6-0. The Scots won at number two where Johnson defeated Olsson 6-1; 7-6 and at number three where Stewart beat senior Will Palmer (Schiller International School, Leicester, England) 6-4; 7-6.
Wall picked up a 6-3; 6-3 victory over Marco Franco at number four and Bayles beat King 6-0; 6-0 at number five. Arnold won at number six over Shiakallis 6-3; 6-0.
Augustana, ranked 18th in the latest NCAA Division III Central Region poll, will be in action again on Wednesday, April 10 at Cornell in Mt. Vernon, Iowa at 4:00 p.m.