April 8, 2013
Heaton grabs CCIW "Pitcher of the Week" honor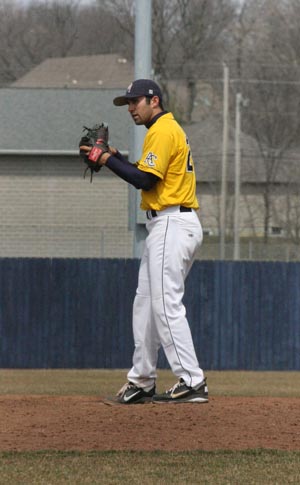 Senior Ben Heaton picked up a pair of victories in league action last week and was named the "Pitcher of the Week" in the College Conference of Illinois & Wisconisn for his efforts.
ROCK ISLAND, Ill. - Senior right hander Ben Heaton (Bloomington Central Catholic HS, Heyworth, Ill.) parlayed two victories in league play last week to "Pitcher of the Week" honors in the College Conference of Illinois & Wisconsin (CCIW). This is the second time this season that Heaton has been named "Pitcher of the Week" in the CCIW with his first honor coming back on February 26.

Heaton won a pair of CCIW contests last week, working eight innings in an 11-2 victory at North Central on Tuesday, April 2 and going 7 2/3 innings in a 4-2 win against Carthage at home on Sunday, April 7. In the win at North Central he struck out 10 and gave up five hits while walking just one. Against Carthage he scattered eight hits, struck out three and didn't walk anybody.
So far this season Heaton has compiled a record of 4-1 with a team-leading 1.62 earned run average. He has appeared in six games, five of them as a starter and he has logged one complete game, one solo shutout and one combined shutout. He has worked 39 innings and given up just seven runs, all of them earned with 27 strikeouts against just seven walks. Opponents are hitting just .227 against him.
Augustana is currently 17-4 overall and ranked 19th in the latest NCAA Division III national baseball poll according to D3baseball.com. The Vikings are 5-2 in the CCIW heading into a home game on Wednesday, April 10 against North Central at 6:00 p.m.
Heaton is an accounting and finance major and is the fifth Augustana player this year to be honored by the CCIW as "Player of the Week". Besides Heaton's two weekly honors, sophomore lefthander Seth Davis (J.K. Mullen HS, Aurora, Colo.) was the "Pitcher of the Week" on March 26. Senior centerfielder Mark VanNatta (Rock Island Alleman HS, Moline, Ill.) won the "Hitter of the Week" on March 19 as did senior second baseman Kurt Schmidt (Grayslake Central HS, Grayslake, Ill.) on March 5 and junior right fielder Jacob Van Duyne (Wilmington HS, Wilmington, Ill.) on February 26.