April 9, 2013
Maduro achieves Player of the Week honor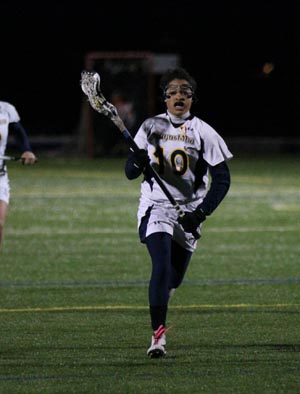 Augustana sophomore Kendall Maduro helped give the Vikings a pair of victories this past week. Her combined three goals, two assists and eight caused turnovers was good enough to name her the Midwest Women's Lacrosse Conference Player of the Week.
Augustana freshman Kendall Maduro (Neuqua Valley HS, Naperville, Ill.) has been named the "Player of the Week" in the Midwest Women's Lacrosse Conference. She played key roles in the Vikings' wins over Carthage on Tuesday, April 2 as they edged out a 10-9 victory and in an easy 24-4 triumph against Fontbonne on Saturday, April 6.
Maduro added two goals, an assist, and five ground balls in the win over Carthage. However, it was her defense that stood out causing a season high seven turnovers. In the Vikings' defeat against Fontbonne, she had one goal and one assist, adding one caused turnover and one groundball to her tally. The two wins improved Augustana's record to 8-3 overall and a perfect 4-0 in conference play.
In her 11 games played thus far, Maduro has scored 15 times and ranks second on the team with 17 ground balls. She has been vital at the midfielder spot dishing out nine assists on the season. Her 24 points on the season rank her fifth on the team.
Maduro is completing her degree in international business and marketing.