April 8, 2013
Women's lacrosse team to say "thanks" to first graders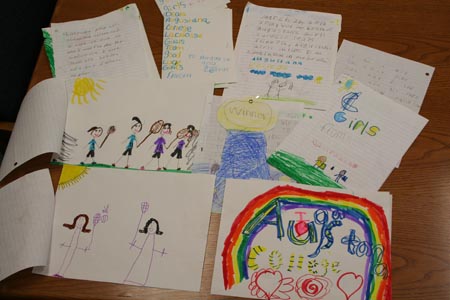 Here is a sampling of some of the letters written by first graders at Earl Hanson Elementary School in Rock Island, Illinois in support of the women's soccer team at Augustana. The first graders were prompted by para professional Greg Heiner after he explained the sport of lacrosse to them. In response, the Vikings and head coach Sara Tisdale will be visiting the school on Thursday, April 11 at 9:15 a.m. to help teach a reading lesson and show some basic lacrosse skills.
After the biggest victory in the brief history of women's lacrosse at Augustana, head coach Sara Tisdale and her players figure it is time of a little payback. However, this kind of "payback" won't be done with revenge in mind. Rather it will be to say thank you to a first grade class at Earl Hanson Elementary School in Rock Island.

Last Tuesday night (April 2), the Vikings recorded a scintillating last-second 10-9 victory over Carthage on a goal by sophomore Allie Rohrenbeck (Columbus Academy, Gahanna, Ohio) as time expired. Roehrenbeck took a feed from freshman Emily Handrahan (Lake Zurich HS, Hawthorn Woods, Ill.) and fired it into the back of the net to give the Vikings a hard-fought victory.
Prior to the game, the Augustana team received a packet of letters from the first graders at Earl Hanson where para-professional Greg Heiner had his class conduct a writing project. Their task was to write letters of support to the Vikings after Heiner explained some of the nuances of the sport.
"I think it is great that the students at Earl Hanson chose to support our women's lacrosse team," said Tisdale. "Our players read all the letters prior to the game and it meant a lot to them."
The Vikings were so touched by the gesture that the team has decided to repay the kindness. This Thursday, April 11 at 9:15, Tisdale and her players will pay a visit to Earl Hanson and will help in teaching a reading lesson as well as demonstrate some basic lacrosse skills.
"It is never a bad thing for our student-athletes at Augustana to reach out to the community," remarked Tisdale, who has compiled a record of 23-6 in her two seasons at the Vikings' helm. "This is our opportunity to say thank you and allow the first-graders at Earl Hanson to mingle with college students."
Augustana is currently 8-3 overall and 4-0 in the Midwest Women's Lacrosse Conference with a pair of road games on tap for this weekend. The Vikings will play at Otterbein on Friday, April 12 and at Mt. St. Joseph on Saturday, April 13.