April 7, 2013
Vikings complete series sweep of Carthage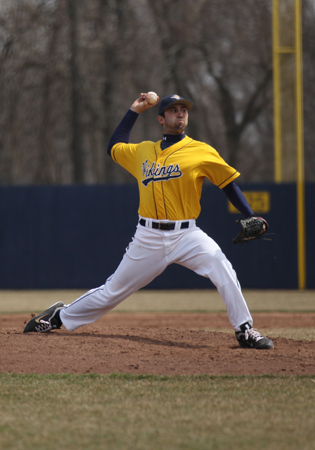 Senior right-hander Ben Heaton went 7 2/3 innings Sunday, beating Carthage 4-2 to improve to 4-1 on the year.
MOLINE, Ill. -Ben Heaton (Bloomington Central Catholic HS, Heyworth, Ill.) gave Augustana 7 2/3 strong innings Sunday and Grant Stewart (Sterling HS, Sterling, Ill.) and Jacob Van Duyne (Wilmington HS, Wilmington, Ill.) had three hits each as Augustana completed a three-game series sweep of Carthage with a 4-2 win at Swanson Stadium/Brunner Field. The 23rd-ranked Vikings improve to 17-4 on the year and 5-2 in the CCIW, while the Red men fall to 7-13 overall and 2-6 in the league.

Stewart drove in Kurt Schmidt (Grayslake Central HS, Grayslake, Ill.) with Augustana's first run in the bottom of the first. Van Duyne led off the frame with a single. He moved to second on a wild pitch and to third on a Danny Fifer (Lincoln-Way West HS, New Lenox, Ill.) sacrifice, but was cut down trying to score on Schmidt's grounder to third. Stewart came through, however, with a shot to the gap in left center to put the Vikings on top.
A hit batter, single, passed ball and an error led to two more Augustana runs in the second before the game settled into a pitchers' duel. Jeremy Juhl was struck in the head by a Marc Mantucca pitch with one out and Nick Tenerelli (Downers Grove South HS, Downers Grove, Ill.) followed with a single. Both later scored when Carthage couldn't handle Van Duyne's two-out infield grounder.
The Red Men got three straight singles to touch Heaton for a run in the sixth, but the Viking hurler helped himself by starting a 1-6-3 double play before getting Mike Merritt on a called third strike to end the inning.
After getting the first two outs in the eighth, Heaton surrendered back-to-back singles to Nick Schmidlkofer and Kyle Pusateri and Coach Greg Wallace made the call to the pen for Darwin Townsend (Libertyville HS, Libertyville, Ill.). The freshman right-hander gave up an RBI single to Mantucca, but got Merritt looking to get out of the inning with a 3-2 lead.
Mark VanNatta's (Alleman HS, Moline, Ill.) two-out single drove in Jacques Camalick (Hinsdale Central HS, Burr Ridge, Ill.) with a big insurance run in the bottom of the eighth. Stewart got a one-out single off Carthage reliever Sam Wilhelms and Camalick followed with a shot to the gap in left center. The Red Men relay cut Stewart down at the plate, the third Augustana runner thrown out trying to score in the game. However, VanNatta came through with a shot up the middle to make it 4-2.
Senior southpaw Rick Erickson (Lake Zurich HS, Hawthorn Woods, Ill.) set the Red men down in order in the ninth for his third save of the season.
Heaton scattered eight hits in 7 2/3 innings, walked none and fanned three to improve to 4-1 on the year. Carthage got a solid effort out of Mantucca (0-2), who gave up eight hits and just one earned run in seven innings with no walks and four strikeouts. Stewart had two doubles among his three hits.
Next up for Coach Greg Wallace's club is a home date against North Central on Wednesday, April 10. First pitch at Swanson/Brunner is scheduled for 6:00 p.m.