April 6, 2013
24 hits help lead sweep of Carthage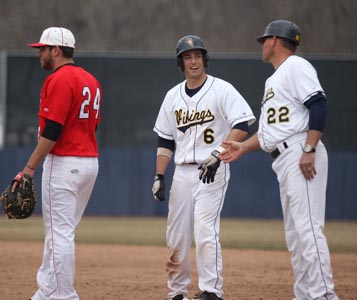 Senior Kurt Schmidt hit four doubles in the Vikings' twin-bill sweep of Carthage on Saturday, April 6 at Swanson Stadium/Brunner Field. He collected five hits in eight at-bats on the day with three runs scored and four runs-batted-in.
MOLINE, Ill. - Taking full advantage of a potent offensive attack and capitalizing on six Carthage errors, Augustana swept a College Conference of Illinois & Wisconsin double header from the Red Men on Saturday, April 6 at Swanson Stadium/Brunner Field. A pair of complete game pitching performances from senior Jared McIntosh (Davenport Assumption HS, Davenport, Iowa) and sophomore Seth Davis (J.K. Mullen HS, Aurora, Colo.) didn't hurt either as the 23rd ranked Vikings pushed their overall record to 16-4 and moved their league slate to 4-2.

The Vikings clobbered 16 hits and were helped by five Carthage errors in a 15-4 victory in game one as McIntosh went the distance in a seven-inning game shortened by the 10-run rule. Augustana collected eight hits and Davis went the distance over nine innings in a 5-2 victory in the nightcap.
GAME 1 - AUGUSTANA 15, CARTHAGE 4
The Vikings scored in all six innings that they batted in a 15-4 win in the series opener, including four-run outbursts in the bottom of the second and fourth innings. Senior second baseman Kurt Schmidt (Grayslake Central HS, Grayslake, Ill.) led the charge with four hits in four at-bats with two runs scored and three runs-batted-in. Three of his four hits were doubles and he added a sacrifice fly for good measure.
Schmidt drove in the first run of the game in the bottom of the first inning when he doubled off Carthage starter Jeremy Salzman to score junior Jacob VanDuyne (Wilmington HS, Wilmington, Ill.), who had singled to lead off the game. In the four run second inning Schmidt's second double of the game capped the scoring as he drove in sophomore Danny Fifer (Lincoln-Way West HS, New Lenox, Ill.). The Red Men committed two of their five errors in the inning as all the runs in the frame were unearned.
Carthage got two of those runs back in the top of the third on a single by Kyle Pusateri that drove in a pair. McIntosh got back-to-back pop-ups, both caught by Schmidt, to get out of further trouble.
Sophomore catcher Nick Tenerelli (Downers Grove South HS, Downers Grove, Ill.) scored on a double by sophomore third baseman Kyle Lenihan (Romeoville HS, Romeoville, Ill.) in the fifth to push the margin up to 6-2. The Red Men scored a run in the fourth on a double off the bat of Tanner Wensman that plated Colin Semler to trim the lead to 6-3.
Augustana exploded for four runs in the fourth once again Schmidt was in the middle of it. He singled with one out and moved to second on a ground ball out off the bat of Grant Stewart (Sterling HS, Sterling, Ill.). Four straight Vikings hit safely with Tenerelli's double with the bases loaded and two outs providing the most damage.
Schmidt's fourth hit, and third double, of the game in the fifth helped a three run rally and his sacrifice fly in the sixth capped the Augustana scoring for the game.
His four hits led the way but a total of five Vikings had multiple-hit games. Fifer was three for five with two runs scored and an RBI, Van Duyne went two for five with three runs scored and an RBI, sophomore designated hitter Jacques Camalick (Hinsdale Central HS, Burr Ridge, Ill.) was two for four with two runs scored and two RBI and senior Jeremy Juhl (Glenbard East HS, Lombard, Ill.) went two for four with two runs scored and an RBI.
McIntosh gave up seven hits and four runs while striking out three and walking two as he moved his record to 4-2.
GAME 2 - AUGUSTANA 5, CARTHAGE 2
The Augustana bats cooled a bit in the second game as the Vikings were actually outhit by the visitors 11-8 but Davis used 11 strikeouts to help post the 5-2 complete game victory.
The Vikings jumped in front 1-0 in the bottom of the first. Schmidt reached on a fielder's choice and with two out he stole second. Stewart's double brought him in with the game's first run.
Carthage tied in the top of the second off Davis when Drew Bailey singled home Mike Merritt, who had doubled.
The game did not stay deadlocked for long as senior Mark VanNatta (Rock Island Alleman HS, Moline, Ill.) walked to lead things off against Red Men starter Josh Daniels. He stole second and came home on Tenerelli's single. In the third Stewart was hit by a pitch with one out and came home on Camalick's double to make it 3-1.
Tenerelli led off the fourth with a double, went to third on a sacrifice bunt from Lenihan and scored on a passed ball. Fifer, who had walked and was on first when Lenihan tallied, came home on Schmidt's fourth double of the afternoon.
That would be all the scoring for the Vikings as Mitch Lochen came out of the Carthage bullpen to start the sixth and worked three scoreless innings.
Davis gave up a run in the sixth after Mike Merrit doubled and pinch hitter Chris Tydd beat out a bunt single. With Merrit on third and Tydd on first and just one out, Drew Bailey hit a tapper back to Davis who held Merrit at third and just did get Tydd at second for the force and the second out of the inning. Stevo Kraynak then doubled to drive in Merrit but Bailey was cut down trying to score from first on a perfectly executed relay from Fifer in left to Juhl and then to Tenerelli at the plate.
Davis walked just one while giving up 11 hits but five of the last six outs were strikeouts as he moved his record to 4-0 on the season.