April 6, 2013
Carthage edges Vikings 7-6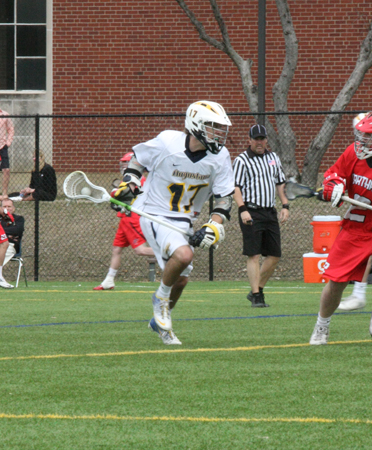 Sophomore Tim Fennelly had a goal and two assists Saturday, but Augustana came up just short, falling 7-6 to Carthage at Thorson-Lucken Field.
ROCK ISLAND, Ill.--Augustana was able to slow down Carthage's high-powered offense Saturday, but came up one goal short, falling 7-6 at Thorson-Lucken Field. The Red Men improve to 8-2 on the year and 3-0 in the Midwest Lacrosse Conference, while the Vikings fall to 5-4 overall and 2-1 in the league.

After a first quarter that ended with Carthage on top 4-3, the game settled into a defensive affair with just six goals scored over the final three periods.
The teams traded goals early, with Carthage's Danny Morse and Mason Poage sandwiching unassisted goals around one from Viking freshman Kevin Gleason (Loyola Academy, Chicago, Ill.). Freshman Scott Davis (St. Thomas Aquinas HS, Overland Park, Kan.) scored off a Tim Fennelly (Littleton HS, Centennial, Colo.) assist with 6:20 left in the opening period to even the score at 2-2. Poage, Jake Cymbal and Fennelly each had a goal to wrap up the first quarter scoring.
Poage scored off a Jack Meachum assist at 8:36 of the second quarter and Peter Slefinger gave the Red men their largest lead of the game, 6-3, with a goal off a Morse assist with 1:52 left in the half. Gleason answered with 20 seconds left on a Colin Haley (St. Charles East HS, St. Charles, Ill.) assist and the teams went to the locker room with Carthage leading 6-4.
Davis scored the only goal of the third quarter, getting an assist from Fennelly, as the Vikings went to the foruth quarter trailing 6-5.
Morse's unassisted goal, his 33rd of the season, halfway through the period gave the visitors a two-goal advantage, but Davis scored his 25th of the year at 2:49 and Augustana was back within one goal.
Carthage controlled the ensuing faceoff and was able to run off a considerable portion of the remaining clock. The Vikings had one final opportunity following Jeremy Gottardo's (Jacobs HS, Algonquin, Ill.) forced turnover with 41 second left, but couldn't get the equalizer.
The Red Men finished with a 39-23 advantage in shots, a 34-24 edge in ground balls and controlled 22 of 24 faceoffs. Davis scored three goals for the Vikings, Gleason two and Fennelly had a goal and two assists. Sophomore goalkeeper Cody Burgdorff (Peak to Peak HS, Lafayette, Colo.) recorded 16 saves, the third-most ever in a single game at Augustana.
Coach Kyle Hart's club will play its second of five consecutive home games on Wednesday, April 10 when Fontbonne visits Thorson-Lucken Field for a 7:30 p.m. contest.