April 5, 2013
Vandersee's win propels Vikings in Tyska debut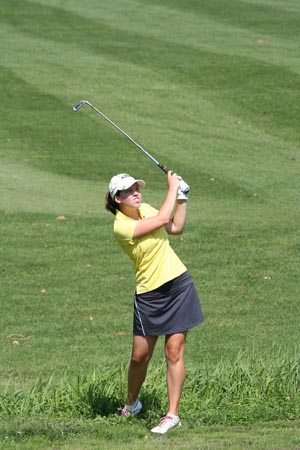 Senior Megan Vandersee won the individual title at the Knox Spring Invitational on Friday, April 5 with a score of 83 at Soangetaha Golf Course in Galesburg, Illinois. Vandersee's performance helped Augustana to the team title in the coaching debut of interim head coach Pam Tyska.
GALESBURG, Ill. - An individual medalist performance from senior Megan Vandersee (Sterling HS, Sterling, Ill.) made Pam Tyska's debut as the interim head coach of the Augustana women's golf team a successful one. The Vikings defeated Monmouth 364-369 to win the Knox Invitational on Friday, April 5 at Soangetaha Country Club in Galesburg, Illinois. Two other teams (Knox and Carl Sandburg) participated in the meet but did not have enough players to field complete teams.

Tyska, who was named interim head coach at Augustana in February after a successful 24-year career as the head coach at Northern Illinois, watched as her team recorded a five stroke victory over the Fighting Scots and put four players in the top seven finishers.
Vandersee led the way with an 11-over par 83 on the par 72 layout. She finished three strokes better than Monmouth's Hannah Long, who recorded an 86 in second place. Freshman Samantha Barlage (Marian Catholic HS, Lansing, Ill.) was the next best Viking on the course with an 89 that was good for fourth place. She was just one stroke behind third place finisher Mia Savard of Knox, who shot an 88.
Juniors Dena Capitani (Hinsdale Central HS, Hinsdale, Ill.) and Kelly Farina (Normal West HS, Bloomington, Ill.) tied for seventh individually as each shot 96. Junior Kelly Olson (Prairie Ridge HS, Crystal Lake, Ill.) rounded out the Augustana scoring with a 117.
The Vikings will be in action at the Monmouth Invitational at Gibson Woods Golf Course on Saturday, April 6 in Monmouth, Illinois.