April 5, 2013
Men's tennis opens CCIW action by blanking North Central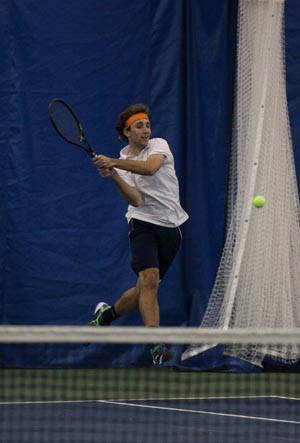 Junior Andy Wall won a three set match at number two singles and teamed with sophomore Lawrence Palmer for a victory at number one doubles as Augustana defeated North Central 9-0 to kick off the College Conference of Illinois & Wisconsin men's tennis campaign in Naperville, Illinois on Friday, April 5.
NAPERVILLE, Ill. - The Augustana men's tennis team got off to a great start in College Conference of Illinois & Wisconsin play with an impressive 9-0 victory over North Central on Friday, April 5 in Naperville, Illinois. Head coach Jon Miedema's Vikings, currently ranked 18th in the NCAA Division III's Central Region, wasted little time in dispatching the Cardinals.

Augustana jumped out to a 3-0 lead after the doubles action. Sophomore Lawrence Palmer (Schiller International School, El Prat de Llobregat, Spain) and junior Andy Wall (Notre Dame Academy, De Pere, Wis.) won at number one doubles by a score of 8-2 over Adam Ciccone and Travis Kaszynski. The number two team of senior Jack Cullen (Edgewood HS, Madison, Wis.) and junior Colin Arnold (Sterling HS, Sterling, Ill.) won by the same score over Josh Rodig and Rustam Saini. The number three duo of junior Kevin Bayles (Homewood-Flossmoor HS, Flossmoor, Ill.) and senior Will Palmer (Schiller International School, Leicester, England) had a little closer battle but still dispatched of Mason Sass and Jesse Adamson by an 8-6 count.
Lawrence Palmer took care of Ciccone at number one singles 6-2; 6-0 while Wall had a three-set struggle with Saini at number two before prevailing 7-5; 3-6; 10-7. Bayles handled Rodig 6-1; 6-1 at number three and Arnold beat Kaszynski 6-1; 6-1 at number four. Cullen defeated Sass 6-0; 6-2 at number five and junior Grant Wick (Windsor HS, Fort Collins, Colo.) took care of Adamson 6-2; 6-1 at number six.
The Vikings are now 11-6 overall and 1-0 in the CCIW while North Central falls to 3-11 and 0-2. Augustana, which has now won three of its last four matches, will face Monmouth on Tuesday, April 9 in Monmouth, Illinois and Cornell on Wednesday, April 10 in Mt. Vernon, Iowa in a pair of non-conference tilts. The Vikings will get back into CCIW action on Saturday, April 13 at Illinois Wesleyan.