April 4, 2013
Augustana ranked 11th in NCAA poll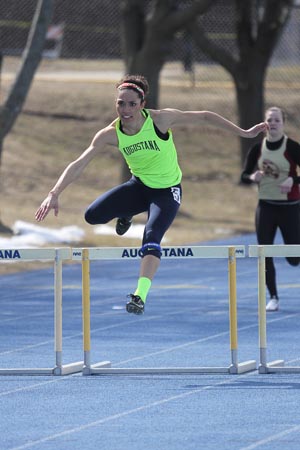 Kierra Smith has helped the Vikings earn an 11th place ranking in the NCAA Division III track & field team dual meet rankings. She broke her own school record in the 400 hurdles at the Augustana Open on March 28.
ROCK ISLAND, Illinois - The Augustana women's track & field team has started the outdoor campaign very well. The Vikings find themselves ranked 11th in the initial NCAA Division III dual meet power rankings. Head coach Fred Whiteside's team has compiled a total of 123.06 points.

The poll, which is conducted by the U.S. Track & Field and Cross Country Coaches Association, quantifies the depth of each team. The team's total score is the sum of all points earned in each event. Two individual athletes are scored per event, as well as one relay team. The points are based on the best marks of an event in the current season, with the faster times and farther distances worth more.
Augustana is coming off a successful indoor campaign that ended with a top 20 ranking in NCAA Division III according to the USTFCCCA's dual meet power rankings. The Vikings put together a fifth place finish at the College Conference of Illinois & Wisconsin championships on February 22-23. As an individual, junior Taelar Hillyer's (Rock Island Alleman HS, Bettendorf, Iowa) mark in the pole vault was good enough to qualify in the NCAA Division III indoor national championship.
To begin the outdoor season, the West region has a stronghold on the top of the power rankings, with three of the top five teams hailing from the region. Claremont-Mudd-Scripps leads the way with a total of 167.99 points with California Lutheran (155.32) and Pomona-Pitzer (137.86) ranked second and fifth, respectively. Ithaca (150.64) and Ohio Wesleyan (139.21) are the other two teams in the top five, at third and fourth, respectively.
Augustana started the outdoor season off right with a first place finish at the Viking Olympics on March 23 in Rock Island, Illinois. The Vikings scored 211 points to easily take the 10 team event. On March 28, they hosted the Augustana Open and tallied 199.83 points to finish third in the seven team meet.
Augustana will travel to Waverly, Iowa to compete in the Wartburg Select meet on Saturday, April 6. The meet is scheduled for an 11:30 a.m. start.
2013 NCAA DIVISION III OUTDOOR DUAL MEET POWER RANKINGS
Sponsored by the USTFCCA ** As of 04/02/2013 ** POLL #1
| | | | |
| --- | --- | --- | --- |
| RANK | SCHOOL | REGION | POINTS |
| | | | |
| 1. | Claremont-Mudd-Scripps | West | 167.99 |
| 2. | California Lutheran | West | 155.32 |
| 3. | Ithaca | Atlantic | 150.64 |
| 4. | Ohio Wesleyan | Great Lakes | 139.21 |
| 5. | Pomona-Pitzer | West | 137.86 |
| 6. | Rochester | Atlantic | 131.87 |
| 7. | Occidental | West | 128.16 |
| 8. | Ohio Northern | Great Lakes | 127.21 |
| 9. | Christopher Newport | South | 126.63 |
| 10. | Lynchburg | South | 126.62 |
| 11. | Augustana | Midwest | 123.06 |
| 12. | Waynesburg | Mideast | 114.24 |
| 13. | SUNY Brockport | Atlantic | 112.62 |
| 14. | Puget Sound | West | 111.78 |
| 15. | Washington & Jefferson | Mideast | 110.88 |
| | | | |
- Story by student assistant Paul Hurd