'An awesome place and an awesome cause'
For her Senior Inquiry, Lauren Novak compared water quality in Nicaragua and Iowa
April  05, 2013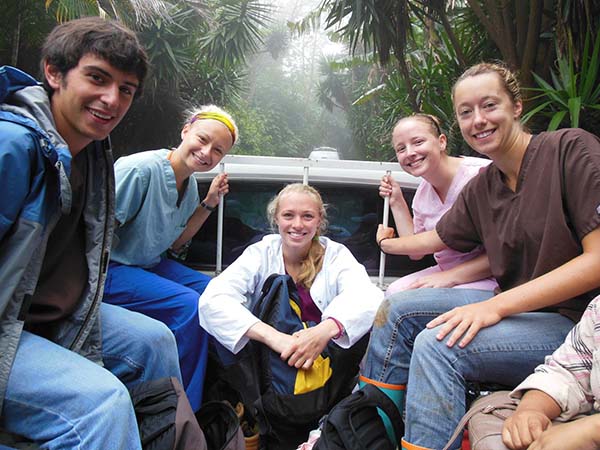 Pre-veterinary students traveling through Nicaragua. From the left, Steven Zary, Emily Byers, Alison Bjork, Lauren Novak and Elizabeth Hilton.
During spring break in 2011, Lauren Novak '13 went to Nicaragua with a group of students and professors as part of the Augustana JETS (Joining Education Through Service) program. Most students who make this annual public health service-learning trip to Nicaragua are biology majors focusing on one of the pre-health fields. Novak, who is in the pre-veterinary medicine program, joined the group as a volunteer for animal health care.
As she spent her hours vaccinating and de-worming livestock, she started thinking about the parasites she was seeing. Then, while "bouncing around ideas" with biology professor and JETS founder Dr. Dara Wegman-Geedey, one of the faculty members who accompanies and works alongside the students in Nicaragua, Novak decided to focus her Senior Inquiry research on her experiences in that country.
"I thought this would be an awesome place and an awesome cause," Novak said.
She decided it would be interesting to see if a correlation existed between the parasites found in the cows and horses and the illnesses found among people visiting the doctor's clinics. The place to start? Check to see if the water contained fecal matter, known as "coliforms." Coliforms (animal) and E. coli (human) fecal material in water both increase the risk of parasites, which Novak already had seen in animals all over western Nicaragua, and which could mean greater risk of illness among humans.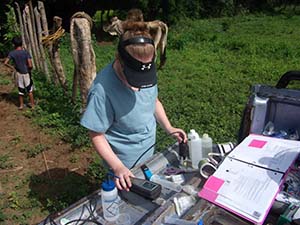 Lauren Novak works at her station in Nicaragua.
Celebration of learning
Lauren Novak's research results currently are displayed on the second floor of Hanson Hall of Science. To view and learn more about Senior Inquiry and other in-depth student projects from across the liberal arts, attend the annual Celebration of Learning on Saturday, May 4, from 9:30 a.m. to 2 p.m., in Hanson Hall of Science.
What's in the water?
So, in the summer of 2011, Novak began the literary research to prepare for her next trip to Nicaragua. She also looked for methods of collecting and identifying parasites—various "rapid tests" and any resources not already available in Augustana's biology department. Her topic quickly veered from parasites to water quality.
"Since stool is a messy thing to deal with," she said, "I wondered instead about testing water. However, to directly correlate water quality to human symptoms, I really would have to go to their main water sources."
The problem was that for a more definitive test, the study would have to use more water than was available to them. "The people there have limited resources," Novak said. "We didn't want to take more than they could give."
Funded in part with $2,000 from Augie Choice, Novak conducted a pilot (introductory) study on the water quality in Nicaragua during her second trip there in the summer of 2012. Using a special kit, she gathered water at locations used by livestock, letting the water run about 30 seconds each time. When she had her samples, she used meters to measure for TDS (total dissolved solids) and pH, which affect the taste and "hardness" of the water.
While neither of these presents a real health issue, "once we had the baseline factors, someone else could focus on nitrate levels," she said. Such steps point out the value of pilot tests.
More important to her immediate concerns about the water quality, Novak's kits provided containers of a "broth" used in a rapid test for coliforms and E. coli. "The broth color will tell you whether there are coliforms, and fluorescence says there's E. coli present," she explained.
When she returned to the Midwest, Novak used the same methods to test water for livestock in rural eastern Iowa. As the study was a pilot, and she also suspected that the rough data pointed to a problem with part of her kit, Novak reached no definitive conclusions. Still, she found very interesting observations—such as coliforms and E. coli present in both locations, though not, apparently, at an alarming level.
"Hopefully, someone can take our baseline and find some more definitive data," she said. "Dara (Dr. Wegman-Geedey) may take the results to the Nicaraguan government as an initiative to clean up the water."
Ideally, a researcher in the next phase would sample main water sources, and for the greater length of time that could lead to more absolute results.
Results at Augie
According to the Wabash National Study of Liberal Arts Education, recent graduates of Augustana College reported a statistically significant higher level of academic challenge and effort than students at similar institutions in both the freshman and senior years — and also a statistically significant higher level of good teaching and high quality interactions with faculty than students at similar institutions during the senior year.
Relationships built on ideas and research
Throughout Novak's research, which led to a poster project titled "Water Quality of Nicaraguan and U.S. Farms: A Comparative Study," Dr. Wegman-Geedey played a role that's typical of the student-faculty relationship throughout Senior Inquiry. They discussed the project together initially; Novak did the research and the hands-on work, and when she found results, Dr. Wegman-Geedey helped her interpret them.
"My relationship with Dara really exemplifies what happens in the Augustana community," Novak said. "During the Nicaragua trip, we really bonded over ideas and research, and then we just continued that when we returned to campus.
"The professors here are so welcoming; when I compare with friends from other schools, they don't say they have the same experience," she said. "I'm going to really miss that when I leave."
After graduation, Novak will attend graduate school at the University of Illinois School of Veterinary Medicine. But first she plans to spend June in Camaroon, Africa, for an internship working with primates at the Limbe Wildlife Center.
"My ultimate goal is a zoo vet, and maybe some freelancing in the wildlife area," she predicts. "But if someone ever approached me about research, I definitely would be interested—if I thought it was necessary."