April 2, 2013
Vikings win on Roehrenbeck buzzer-beater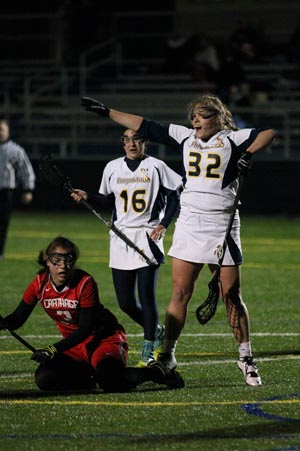 Augustana sophomore Allie Roehrenbeck reacts after scoring the game-winning goal with less than a second on the clock Tuesday at Thorson-Lucken Field. The goal gave the Vikings a 10-9 Midwest Women's Lacrosse Confrence win over Carthage.
ROCK ISLAND, Ill.-Sophomore Allie Roehrenbeck (Columbus Academy, Gahanna, Ohio) scored with less than a second on the clock Tuesday night to give Augustana a 10-9 win over Carthage at Thorson-Lucken Field. The Vikings improve to 7-3 overall and 3-0 in the Midwest Women's Lacrosse Conference. The Lady Reds fall to 4-5 and 1-1 in the league.

With 2.4 seconds remaining in regulation and the game tied 9-9, Augustana was awarded possession after the ball went out of bounds. Freshman Emily Handrahan (Lake Zurich HS, Hawthorn Woods, Ill.), positioned behind the Carthage goal, found Roehrenbeck in front of the net and Roehrenbeck's one-timer beat Carthage goalkeeper Ali Gorman for the game-winner.
The Vikings led almost the entire way. Carthage went in front 1-0 on a Lauren Chatham goal just over four minutes into the contest. Augustana tied it four and a half minutes later on a Rebecca Pollard (Westfield HS, Carmel, Ind.) goal assisted by Handrahan and took the lead with 16:49 remaining in the first half when Christina Letmanksi (Glenbard West HS, Wheaton, Ill.) scored with an assist from Kendall Maduro (Neuqua Valley HS, Naperville, Ill.).
Handrahan, Letmanksi, and freshman Kaylee Nolan (Sandburg HS, Orland Park, Ill.) each added goals in the first half as the Vikings took a 5-2 lead to the break.
The hosts extended the lead to 7-3 with a pair of Maduro goals in the first two and a half minutes of the second half, but the Lady Reds responded with three straight scores to cut the lead to 7-6 with 21:58 to play. Sophomore Kate Zisser (Kirkwood HS, St. Louis, Mo.) scored off an Emily Pavlik (Lyons Township HS, LaGrange, Ill.) assist at 19:21 and Carthage's Sydney Whitaker and Roehrenbeck traded goals and the Vikings led 9-7 with 15 minutes left.
That's the way the score stayed until Chatham scored consecutive goals at 3:15 and 2:47 to tie the contest. Augustana got off two shots in the final minute before Roehrenbeck buried the game-winner.
The Vikings had a 33-19 edge in shots and a 31-23 advantage in ground balls, but Carthage controlled 14 of 20 draws.
Letmanski, Maduro and Roehrenbeck each finished the night with two goals and one assist, while Handrahan scored once and had two assists. Sophomore goalkeeper Sarah Osier (Naperville Central HS, Naperville, Ill.) recorded eight saves.
Coach Sara Tisdale's club hosts Fontbonne in a MWLC game at Thorson-Lucken Field Saturday, April 6 at 4:00 p.m.