March 30, 2013
Vikings edge UWL, batter Wartburg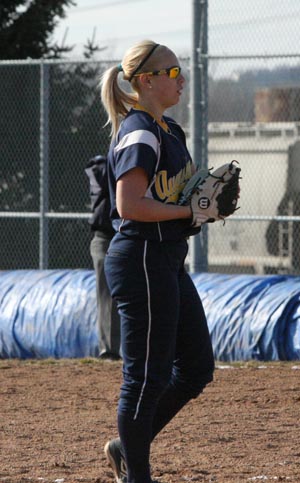 Freshman Ashley Anderson picked up her first save and fifth win of the season Saturday as Augustana defeated UW-La Crosse 3-2 and Wartburg 8-0 at the Augustana Invitational. Anderson spun a one-hit shutout against Wartburg.
ROCK ISLAND, Ill. - Freshman left-hander Ashley Anderson (Sherrard HS, Viola, Ill.) picked up her first save of the season in Augustana's 3-2 win over Wisconsin-La Crosse Saturday and came back later in the day to fire a one-hit shutout in an 8-0 win over Wartburg. The Vikings wrapped up play at this weekend's Augustana Invitational with a 4-0 record.

Augustana 3, UW-La Crosse 2
Freshman Cheyenne Burnett (Rock Falls HS, Rock Falls, Ill.) doubled in the tying run and scored the eventual winning run on a wild pitch in the fourth inning of the Vikings' first game of the day.
With Augustana trailing 2-1 after three, senior Jenna Nelson (Orion HS, Orion, Ill.) led off the fourth with a base on balls. Burnett followed with her game-tying two-bagger and moved to third on the throw home. One out later she scored the go-ahead run on a wild pitch by La Crosse starter Megan Nelson.
After allowing a run in each of the first two frames, Viking starter Sarah Hintz (Le Roy HS, Le Roy, Ill.) settled down, holding the Eagles scoreless for the next four innings. However, she walked Kallie Krech to lead off the seventh, prompting Coach Kris Kistler to go to Anderson, who set down three straight batters to end the game.
Junior Krista Watson's (Coal City HS, Coal City, Ill.) RBI single in the first scored Laura Behnke (St. Francis HS, Roselle, Ill.) to give Augustana the early lead, but UWL answered with a run in the bottom half and added one in the second to go up 2-1. The Vikings threatened against Nelson, leaving a total of five runners stranded in the second and third, before finally breaking through in the fourth.
Hintz got her seventh win of the season against just two losses and Anderson picked up her first save. Behnke had two of the Vikings' six hits.
Augustana 8, Wartburg 0
Anderson got the start in Augustana's second game of the day and handcuffed Wartburg, allowing just a second-inning bunt single to Jess Brunko. She walked two and struck out five in the contest, shortened to five innings by the mercy rule. The shutout was her fifth of the season and she improved to 5-1 on the year.
The Vikings gave Anderson all the runs she would need on Jamie Rehmert's (Sterling HS, Sterling, Ill.) two-out, three-run double in the bottom of the third.
They didn't stop scoring there, however, adding five in the fourth. Senior Amanda Johnson (York HS, Elmhurst, Ill.) delivered an RBI double in the inning and Behnke and sophomore Chelsea Lavin (Downers Grove South HS, Downers Grove, Ill.) each had RBI singles.
Rehmert finished two for two with a pair of doubles. Behnke continued her hot hitting, going two for three. Eight different players scored runs for Augustana.
Now 15-5 on the season, Kistler's club opens CCIW play with a doubleheader at Illinois Wesleyan on Saturday, April 6.