March 30, 2013
Vikings a 12-9 winner at Mt. St. Joe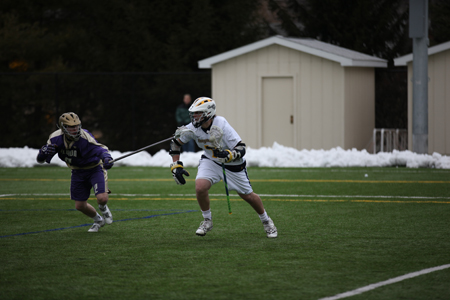 Sophomore Jesse Nagelberg scored five goals Saturday to lead Augustana to a 12-9 Midwest Lacrosse Conference win at Mount St. Joseph.
CINCINNATI, Ohio - Behind five goals from sophomore Jesse Nagelberg (St. Charles East HS, St. Charles, Ill.), Augustana picked up a big 12-9 Midwest Lacrosse Conference road win at Mount St. Joseph Saturday afternoon. The Vikings improved to 5-3 overall and 2-0 in the league. The Lions suffered their first conference loss after two wins and are 4-4 on the season.

Nagelberg scored four straight goals in less than six minutes late in the third quarter and early in the fourth, taking the Vikings from an 8-6 deficit at a 10-8 lead. Goals by freshman Scott Davis (St. Thomas Aquinas HS, Overland Park, Kan.) and sophomore Vincent Giglierano (Archbishop Mitty, San Jose, Calif.) stretched the lead to 12-8 before Mount St. Joseph's Ryan Gallagher scored with just under five minutes remaining to account for the final.
Davis and the Lions' Will McClanahan traded two goals each and the first period ended with the teams tied 2-2.
Consecutive goals by Giglierano, Nagelberg, freshman Kevin Gleason (Loyola Academy, Chicago, Ill.) and sophomore Tim Fennelly (Littleton HS, Centennial, Colo.) in the first two and a half minutes of the second quarter put the Vikings up 6-2, but the hosts answered with three straight go to halftime trailing only 6-5.
The Lions' run continued into the third period with three more goals in a row. McClanahan tied it at 6-6 with 11:51 left in third. Gallagher gave the hosts a 7-6 lead 35 seconds later and Peter Thompson put the Lions ahead 8-6 with a goal at the 9:34 mark of the third.
That set up Nagelberg's spree. His unassisted goal at 5:22 of the third got the Vikings within one. Another at the 3:32 mark tied it and yet another with two minutes left in the period gave Augustana the lead for good. He got an assist from Gleason on his fourth straight score to make it 10-8.
In addition to Nagelberg's big day, Davis scored three goals and Giglierano finished with two goals and two assists. Sophomore midfielder Ryan Nakamoto (Naperville Central HS, Naperville, Ill.) continued his fine play, winning 14 of 22 faceoffs and collecting a game-high nine ground balls. Sophomore Cody Burgdorff (Peak to Peak HS, Lafayette, Colo.) made 10 saves in goals and got the win to improve to 4-3 on the year.
On Saturday, April 6, the Vikings host Carthage (6-2, 1-0) in another big MLC matchup. Game time at Thorson-Lucken Field is scheduled for 1:00 p.m.