March 28, 2013
Vikings dominate Easter Open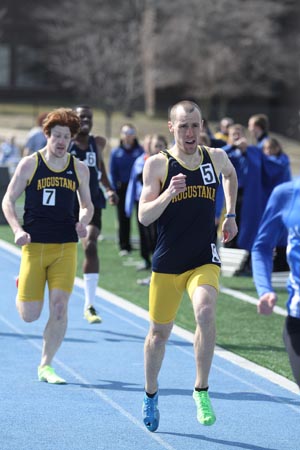 Senior Justin Smith pulled off quite a double Thursday, winning both the 1500 and 3000 at the Easter Open at Ericson Field. Smith's effort helped the Vikings win the eight-team meet by a comfortable margin.
ROCK ISLAND, Ill.-Wins in nine events led Augustana to a comfortable win at the eight-team Easter Open Thursday at Ericson Field. The hosts finished with 296.8 points, well ahead of second-place Wartburg (160.5). Senior Justin Smith (Fenton HS, Bensenville, Ill.) pulled off a tough double, winning the 1500 in 3:59.05 and the 3000 in 8:45.46.

Viking pole vaulters dominated the field. Sophomore Jeff Padesky (Moline HS, Moline, Ill.) cleared 15' ¼" for the win. Seniors Colton VanKirk (Rochelle HS, Rochelle, Ill.) and Ethan Gale (Oregon HS, Oregon, Ill.) both went 14' 6¼" to tie for second and junior Will Lardner (Mundelein HS, Mundelein, Ill.) tied for fourth with a vault of 14' ½". Freshman Hans Hunecke (Lakes HS, Lindenhurst, Ill.) cleared 13' 6 ½" to finish sixth.
Augustana was nearly as good in the javelin. Senior Luke Anderson (Lemont HS, Lemont, Ill.) uncorked a throw of 169' 8" to win his second meet in a row. Classmate Mike Anderson (Richmond-Burton HS, Spring Grove, Ill.) was third with a mark of 149' 7". Sophomore Alec Seymour (Riverton HS, Riverton, Ill.) threw 146' 5" for fourth and junior Stevbe Hapanovich (Cary-Grove HS, Cary, Ill.) was sixth with a toss of 134' 10".
In the 400, senior Greg Patton (Bloomington HS, Bloomington, Ill.) won in :48.67, with sophomore Antonio Owens (Naperville North HS, Chicago, Ill.) running a :49.96 for third. Junior Edgar Valle (Kaneland HS, Elburn, Ill.) was seventh in :51.04 and junior Jared Spivey (Annawan HS, Annawan, Ill.) eighth in :51.77.
Sophomore Keith Cline (Byron HS, Byron, Ill.) won the 200 in :22.07, with junior Jay Graffagna (Geneva HS, La Fox, Ill.) fourth in :23.12 and sophomore Nowlan Savage (Arapahoe HS, Highlands Ranch, Colo.) seventh in :23.30.
Junior Justin Davidson (Galesburg HS, Galesburg, Ill.) won the high jump with a leap of 6' 4¾" and junior Joshua Eisenberg (Richmond-Burton HS, Spring Grove, Ill.) cleared 6 ¼" for fourth. Eisenberg was also eighth in the 110-meter hurdles, finishing in :17.23.
Augustana won both the 4x400 and 4x400 relays as well. The 1600 relay team of Valle, Owens, sophomore Vincenzo Dal Pozzo (Neuqua Valley HS, Naperville, Ill.) and Patton finished in 3:20.13. The 400 relay won in :41.28. That unit consisted of sophomore David Devore (Midland HS, Midland, Mich.), Patton, Cline and senior Alex Rindone (Marmion Academy, Geneva, Ill.).
Graffagna ran the 100 in :11.40, finishing second. Freshman Garrett Miner (Moline HS, Moline, Ill.) was fourth in :11.67 and sophomore Rob McNeil (Bloomington Central Catholic HS, Normal, Ill.) seventh in :11.67.
In the 800, freshmen Cale McCormick (Mahomet-Seymour HS, Mahomet, Ill.) and Dan Popek (Minooka HS, Minooka, Ill.) were third and fourth, running 1:57.48 and 1:58.28, respectively. Junior Steve Zahrobsky (Downers Grove South HS, Woodridge, Ill.) and sophomore Alex Odenkirk (Ironwood Ridge HS, Tucson, Ariz.) were sixth and seventh, respectively, in 1:59.20 and 1:59.72.
Sophomore Jacob Benner (Batavia HS, Batavia, Ill.) was second in the discus with a heave of 145' 8" and senior Kevin Macek (Sandburg HS, Orland Park, Ill.) sixth with a 135' 2". In the hammer, it was Macek throwing 155' 7" for third and Benner 135' 1" for sixth. Macek also put the shot 47' 5 ¾", finishing sixth.
Senior Dennis O'Flaherty (Sandburg HS, Orland Park, Ill.) was third (4:04.20) and Dal Pozzo fourth (4:04.74) behind Smith in the 1500. In the 3000, freshman Ethan Koch (Prospect HS, Mt. Prospect, Ill.) was fourth in 8:55.02, sophomore Nick Gornick (York HS, Elmhurst, Ill.) fifth in 8:59.34, sophomore Grant Bell (Belgrade-Brooten-Elrosa HS, Belgrade, Minn.) seventh in 9:07.71 and junior Andrew Allabastro (Lyons Township HS, LaGrange, Ill.) eighth in 9:12.22.
Junior Isaac Trostle (Willowbrook HS, Lombard, Ill.) picked up a third-place finish, running a 9:46.3 in the 3000-meter steeplechase, while classmate Alex Stockwell (Glenbard West HS, Glen Ellyn, Ill.) was fifth in 10:00.9. Senior Jacob O'Rourke's (Assumption HS, Bettendorf, Iowa) 20' 10¾" in the long jump was good for third place as well, slightly better than classmate Mike Tovar's (Mooseheart HS, Chicago, Ill.) fourth-place 20' 10".
Freshman Travis Goodwin (Simi Valley HS, Simi Valley, Calif.) was fifth in the 400 hurdles, finishing in :57.86.
St. Ambrose finished third in the team standings with 140.5 points, followed by Buena Vista (70), Clarke (55.2), Ashford (43), Concordia-Moorhead (30) and Oakton (seven).
Next up for Coach Paul Olsen's Vikings is the Wartburg Select on Saturday, April 6 in Waverly, Iowa.