March 28, 2013
Ryan named "Rookie of the Year" in NCAA Division III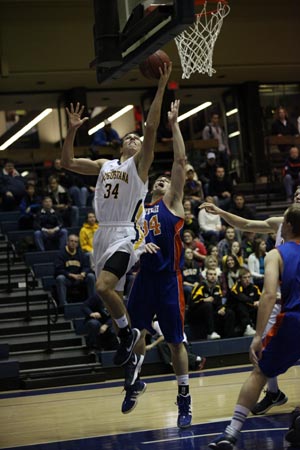 Freshman Ben Ryan pulled in some impressive honors this season but none as significant as being named the National Rookie of the Year in NCAA Division III by D3hoops.com.
An outstanding freshman season for Augustana's Ben Ryan (Washington HS, Washington, Ill.) was capped off Thursday with his selection as national Rookie of the Year by D3hoops.com. The Vikings' leading scorer and second-leading rebounder this year, he adds the national award to D3hoops' Midwest Region Rookie of the Year and CCIW Freshman of the Year accolades.

A 6' 5", 208-pound forward, Ryan helped lead an underclassmen-dominated Augustana squad to a 19-8 record and the CCIW tournament championship game this year. All eight of the Vikings' losses came to teams ranked 22nd or higher in the nation in D3hoops' final regular season poll, including five to teams in the top ten. Ryan posted a double-double of 12 points and 10 rebounds as Coach Grey Giovanine's club knocked off third-ranked Illinois Wesleyan on the Titans' home court in the semifinals of the CCIW tournament.

"This is a terrific honor for Ben, our program, and Augustana College," said Giovanine. "Ben represents the best of NCAA athletics and is certainly deserving of this recognition. I know it will only inspire him to continue working hard on the court and in the classroom."

Ryan, winner of the CCIW's inaugural Freshman of the Year award, is the third player from the conference to win national Rookie of the Year honors from D3hoops.com. Carthage guard Steve Djurickovic was the first-ever winner in 2008 and North Central forward Derek Raridon was selected in 2010.

Ryan just missed becoming the first player ever to lead Augustana in scoring and rebounding as a freshman. As it was, he became just the third frosh in program history to lead the team in scoring, joining Drew Carstens in 2000-01 and Louis "Soup" Semeny in 1924-25. His 183 rebounds were seven shy of Brandon Kunz's (Lake Zurich HS, Lake Zurich, Ill.) team-leading 190. In addition, his 13 points at Aurora on November 15 were the most by a Viking freshman in a season opener in 26 years.

A second-team All-CCIW selection, Ryan averaged 11.7 points and 6.8 rebounds per game this year. He posted six double-doubles and had high games of 21 points at Elmhurst, 13 rebounds against Wisconsin-Oshkosh, five assists versus St. Ambrose and five steals against Carthage. He shot .516 from the field and .638 from the free throw line and had 35 assists, 26 steals and 10 blocked shots.

The son of Jeffrey and Laurie Ryan of Washington, Illinois, Ben also earned academic all-conference honors in 2013. He is one of 13 Viking letter winners slated to return for the 2013-14 season, a dozen of which were freshmen or sophomores this year.