March 26, 2013
Voland grabs "Runner of the Week" after first meet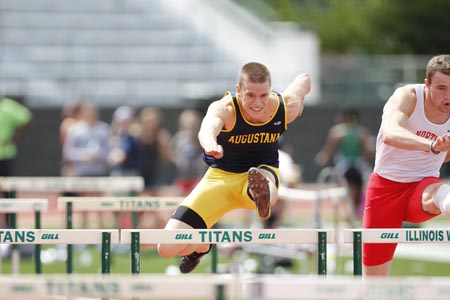 Sophomore David Voland was named "Runner of the Week" after his performance in the Viking Olympics on Saturday, March 23. It was the third time in his career that he has been honored by the CCIW.
Augustana sophomore David Voland (Batavia HS, Batavia, Ill.) has been selected as the "Athlete of the Week" for men's track & field in the College Conference of Illinois & Wisconsin. At the Augustana Viking Olympics, Voland raced to victory and a personal best in the 110-meter hurdles with a time of 15.19 and then went on to set a meet record in the 400 hurdles with a time of 52.88.
Voland's run in the 400-meter hurdles gives him the second fastest time in the nation and his 110 hurdles time places him sixth in the country.
It was Voland's indoor season that steamrolled him to a positive start to his outdoor season. He put together a very successful indoor season, placing second in the 400-meter run and 55-meter hurdles, and was a part of the winning 1600-meter relay at the CCIW indoor championships. Voland was also a member of the All-American 1600-meter relay squad that placed eighth at the NCAA Division III indoor national championship on March 8-9 in Naperville, Illinois.
This is Voland's third time achieving "Athlete of the Week" honors as he did so on April 3, 2012 and April 24, 2012. He currently holds the second fastest time in Augustana history for the 400 hurdles with a time of 51.96. As a freshman last year, Voland was the conference champion in the 400 hurdles and a member of the conference champion 1600 relay group. He went on to place third in the 400 hurdles and was the third leg of the 1600 relay team that ran 3:10.56 to finish second at the NCAA Division III national meet in Claremont, California. That 1600 relay time set a new Augustana record.
Mathematics major, Voland is the son of Richard & Nancy Voland of Batavia, Illinois.
-Story written by student assistant Cody Sharko