March 26, 2013
Nakamoto named Midwest Conference Player of Week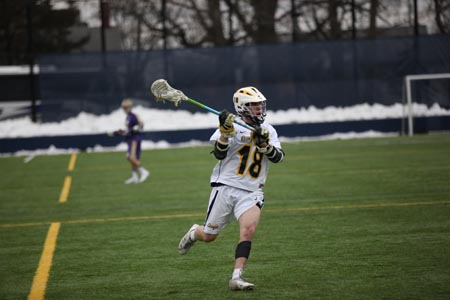 Sophomore Ryan Nakamoto was named the Midwest Lacrosse Conference Player of the Week after winning 32 of 39 face-offs in a pair of Viking victories.
Augustana sophomore Ryan Nakamoto (Naperville Central HS, Naperville, Ill.) has been named the "Player of the Week" in the Midwest Lacrosse Conference. In the Vikings' two wins over Calvin (20-0) on March 20 and Defiance (18-2) on March 24, Nakamoto recorded a team high 16 ground balls and was successful on an astonishing 82% of face-offs (32-39).
Nakamoto, a midfielder, leads the team with 54 ground balls and has handled 88% of the Vikings face-offs on the season. In his seven games played he has established a steady success rate of .640 (87-135) on face-offs. The Vikings are currently 4-3 on the year, and 1-0 in the Midwest Lacrosse Conference.
As a freshman, Nakamoto helped lead the Vikings to an 8-6 record in their inaugural season. He played in all 14 games and recorded seven points while doing so. He carried a .833 shots-on-goal percentage and a team high shot percentage of .417.
Nakamoto is a biology major.