March 24, 2013
Sawyer breaks school record in win over SAU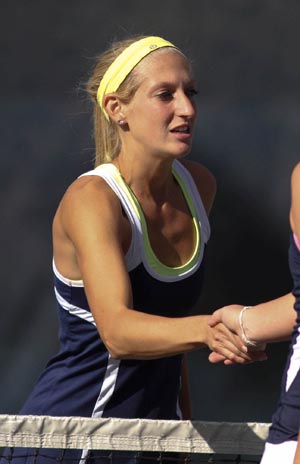 Junior Kim Sawyer broke the existing Augustana school record for career singles victories on Sunday, March 24 in the Vikings' 8-1 win over St. Ambrose. Sawyer now has a career record of 77-17 and she broke Kristen Pence's school record of 76 victories set from 2001-04.
MOLINE, Ill. - It was a record-setting day for junior Kim Sawyer (Batavia HS, Batavia, Ill.) on Sunday, March 24 during Augustana's 8-1 victory over St. Ambrose at the Quad City Tennis Club. Sawyer etched her name in the Vikings' record books with a convincing 6-2; 6-2 win over the Queen Bees' Heather Matejka at number one singles.

With the win Sawyer became the winningest career singles player in Augustana history when the final point fell against Matejka. She is now 77-17 during her career and still has more than a season left to add to it. She broke the previous record of 76, which was held by Kristen Pence (76-19 from 2001-04).
Sawyer is 21-3 this year and ended the fall portion of the season ranked sixth in the NCAA Division III's Central Region. She won a school record 29 matches as a freshman in 2010-11 and then won 27, tied for second on the single-season list, as a sophomore in 2011-12. Her career winning percentage is a sparkling .819 and that is the top mark in school history, better than Pence's existing school record of .800.
The Vikings moved to 12-6 with the win over St. Ambrose and they swept the doubles competition to get off to a 3-0 lead. Sawyer and freshman Aileen MacDonald (Mundelein HS, Mundelein, Ill.) defeated Matejka and Emily Daniels 8-2 at number one. Seniors Krista Panko (Geneva HS, Geneva, Ill.) and Meghan Wethington (Geneseo HS, Geneseo, Ill.) beat Mary Emily Turner and Karissa Kalous 8-0 at number two and junior Caitee Margenthaler (Moline HS, Moline, Ill.) and sophomore Miranda Pence (Oswego HS, Oswego, Ill.) got past Alyssa Dlouhy and Olivia Lofgren 8-6 at number three.
Augustana dropped just one of the six singles matches. Sawyer, of course, won at number one while junior Emily Kaczmarek (Glenbard South HS, Lombard, Ill.) beat Turner 6-3; 6-1 at number two. Panko beat Daniels 6-1; 6-0 at number three and MacDonald made short work of Kalous at number four 6-0; 6-1.
Pence beat Tasha Olson 6-0; 6-1 at number five and Wethington dropped a 4-6; 4-6 decision to Lofgren at number six to account for the lone St. Ambrose victory.