March 24, 2013
Vikings continue dominance of St. Ambrose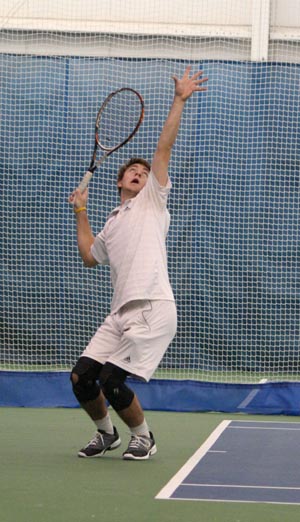 Senior Jack Cullen picked up a win at number one singles as Augustana defeated St. Ambrose 8-1 on Sunday, March 24. It was the Vikings' 14th straight win over the Fighting Bees in men's tennis.
MOLINE, Ill. - Augustana continued its dominance of cross-river rival St. Ambrose in men's tennis with an 8-1 victory over the Fighting Bees on Sunday, March 24 at the Quad City Tennis Club. The Vikings, now 10-6 on the season, have defeated St. Ambrose 14 straight times and have won 24 of the last 25 meetings between the two Quad City schools.

It was a quick turnaround for head coach Jon Miedema's team as the Vikings played St. Mary's (Minnesota) and Edgewood on Saturday afternoon and evening in Madison, Wisconsin and then were on the courts in Moline by 9:30 a.m. on Sunday morning. Augustana didn't appear to suffer from the travel, however, against a depleted St. Ambrose lineup. The Bees did not field a number three doubles team and forfeited at numbers five and six singles as well.
Sophomore Lawrence Palmer (Schiller International School, El Prat de Llobregat, Spain) and junior Andy Wall (Notre Dame Academy, De Pere, Wis.) won at number one doubles over Santiago Gonzalez and Luke Wood by a score of 8-4. At number two doubles freshman Harald Olsson (Lidingo, Sweden) and junior Colin Arnold (Sterling HS, Sterling, Ill.) beat Brandyn Ambrosy and Rob Landman 8-0.
Santiago beat junior Kevin Bayles (Homewood-Flossmoor HS, Flossmoor, Ill.) at number one singles 6-1; 7-6 for the lone St. Ambrose win. Senior Jack Cullen (Edgewood HS, Madison, Wis.) beat Wood 6-7; 7-6; 10-4 at number two. Junior Grant Wick (Windsor HS, Fort Collins, Colo.) took care of Ambrosy at number three 6-3; 6-0 and freshman Patrick Lenz (Villanova Prep School, Ojai, Calif.) beat Rob Landman 6-1; 6-0 at number four singles.
Augustana will open College Conference of Illinois & Wisconsin play on April 5 at North Central in Naperville, Illinois.