March 24, 2013
Augustana wins MLC opener at Defiance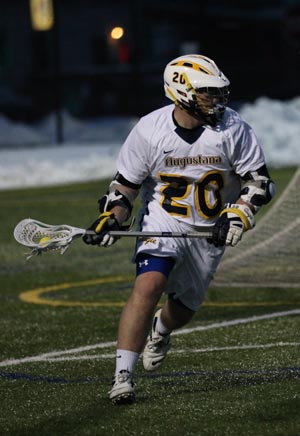 Freshman Kevin Gleason scored five goals Sunday as Augustana won its Midwest Lacrosse Conference debut, 18-2 at Defiance.
DEFIANCE, Ohio-Freshman Kevin Gleason (Loyola Academy, Chicago, Ill.) scored five goals, including four straight in the first quarter, as the Augustana men won its first-ever conference lacrosse game, 18-2 at Defiance. The Vikings improve to 4-3 overall and 1-0 in the Midwest Lacrosse Conference, while the Yellow Jackets are now 0-8 and 0-2 in the league.

Sophomore Colin Haley (St. Charles East HS, St. Charles, Ill.) got the visitors on the board first with an unassisted goal at 13:03 of the first quarter. Gleason scored an unassisted goal two minutes later, then got an assist from Haley at the 8:45 mark to put the Vikings up 3-0. Freshman Scott Davis (St. Thomas Aquinas HS, Overland Park, Kan.) assisted on consecutive Gleason goals just 16 seconds apart and Augustana led 5-0 after one.
The lead reached 8-0 on goals by Davis and sophomores Jesse Nagelberg (St. Charles East HS, St. Charles, Ill.) and Doug Barrie (Lake Forest HS, Lake Forest, Ill.) before Defiance's Tyler Clark scored back-to-back goals midway through the second period. Consecutive unassisted Haley goals and one by Nagelberg gave the Vikings an 11-2 lead at the half.
Gleason and Nagelberg each scored once in the second half as did sophomores Tim Fennelly (Littleton HS, Centennial, Colo.) and John Pagliarello (Heritage HS, Littleton, Colo.). Freshman Andrew Miller (Waukesha North HS, Waukesha, Wis.) scored on all three of the shots he attempted over the final 15:48 of the game.
In addition to Gleason's five goals, Nagelberg, Haley and Miller had three each. Davis added three assists, while sophomore Vincent Giglierano (Archbishop Mitty, San Jose, Calif.) and Haley dished out two apiece. Sophomore Andrew Jurewicz (St. Charles East HS, St. Charles, Ill.) had a team-high six ground balls and Davis and sophomore Ty Benson (Libertyville HS, Libertyville, Ill.) each caused a pair of turnovers.
Sophomore Cody Burgdorff (Peak to Peak HS, Lafayette, Colo.) played the first three quarters in goal, recorded one save, before being relieved by sophomore Jon Pape (Hoffman Estates HS, Hoffman Estates, Ill.).
Augustana finished with a whopping 60-13 advantage in shot attempts, including a 37-3 margin in shots on goal. The Vikings doubled up Defiance in ground balls, corralling 52 to 26 for the Yellow Jackets. Behind sophomore Ryan Nakamoto's (Naperville Central HS, Naperville, Ill.) 17-of-20 performance on faceoffs, the visitors won 20 of 24 in the game. Augustana was also a perfect in 16 clear attempts.
On Saturday, March 30, the Vikings head back to Ohio to face Mt. St. Joseph in Cincinnati. The Lions are currently 4-3 overall and 2-0 in the MLC.