March 23, 2013
Vikings fall to St. Mary's, beat Edgewood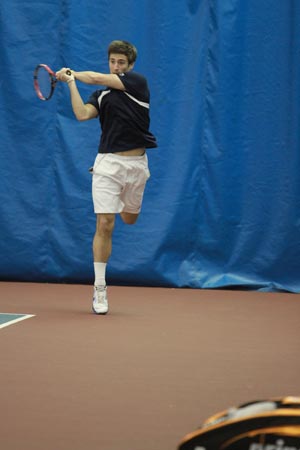 Junior Colin Arnold won both of his singles and doubles matches Saturday as Augustana split duals with St. Mary's and Edgewood in Madison, Wisconsin. The Vikings lost to St. Mary's 6-3 and defeated Edgewood 8-1.
MADISON, Wis. - Junior Colin Arnold (Sterling HS, Sterling, Ill.) won four matches Saturday as Augustana split duals against St. Mary's and Edgewood, falling 6-3 to the Cardinals, but rebounding to defeat the Eagles 8-1. The Vikings, ranked 14th in the Central Region, are now 9-6 on the season. They host St. Ambrose in a 10:00 a.m. match on Sunday, March 24.

ST. MARY'S 6, AUGUSTANA 3
Arnold won his number five singles match over St. Mary's Gavin Smith 6-3, 6-3 and teamed with freshman Harald Olsson (Lidingo, Sweden) at number two for Augustana's only doubles win. The duo defeated Smith and Sam Puff 8-2.
Augustana's other win came at first singles, where Lawrence Palmer (Schiller International School, El Prat de Llobregat, Spain) took care of Michael Lunka 6-1, 7-6.
The Vikings suffered tough losses at fourth and sixth singles. Andrew Rangitsch outlasted junior Kevin Bayles (Homewood-Flossmoor HS, Flossmoor, Ill.) 7-6, 4-6, 14-12 at number four and Collin Kaczorowicz did the same to junior Grant Wick (Windsor HS, Fort Collins, Colo.) 6-4, 2-6, 10-7 at number six.
Palmer and partner Andy Wall (Notre Dame Academy, De Pere, Wis.) dropped an 8-1 decision to Lunka and Bobby Steingraeber at number one doubles and Rangitsch and Kaczorowicz were 8-4 winners over Bayles and senior Jack Cullen (Edgewood HS, Madison, Wis.) at third doubles.
Puff was a 6-3, 6-3 winner over Olsson at second singles and Steingraeber defeated Wall 6-4, 6-4 at number three.
AUGUSTANA 8, EDGEWOOD 1
Cullen enjoyed a homecoming in the day's second dual. He defeated Edgewood's Ben Pratscher love and one at fourth singles and teamed with Bayles for an 8-0 win over Pratscher and Tyler Thompson at number three doubles.
Arnold moved up to number two singles, where he defeated Eric Gavinski 6-3, 6-0. He and Olsson took care of Michael Wanta and Patrick Lagman 8-0 and second doubles.
Wall and Palmer were 8-1 winners over Gavinski and Eric Morgan at number one doubles.
In singles, Wick beat Morgan love and five at number three. Freshman Patrick Lenz (Villanova Prep, Ojai, Calif.) defeated Wanta 6-1, 6-1 at number five and freshman Austin Schoeck (Alleman HS, Rock Island, Ill.) won by the same score over Tyler Thompson at number six.
The Vikings' lone loss came at first singles, where Lagman rebounded from a first-set loss to beat Wall 3-6, 6-4, 8-6.