March 23, 2013
Women's track rolls in Viking Olympics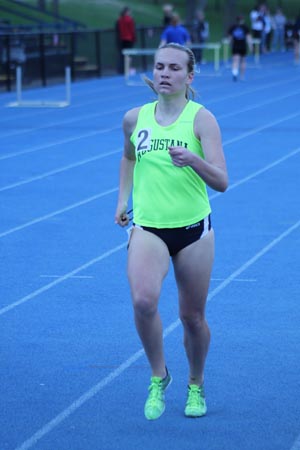 Sophomore Jessica Bacon won the 800 in 2:16.81 and added a leg on the winning 1600 relay to help Augustana to an impressive victory in the Viking Olympics on Saturday, March 23 at Paul V. Olsen Track.
ROCK ISLAND, Ill. - Victories in seven events helped lead Augustana to an impressive win in the Viking Olympics on Saturday, March 23 at Paul V. Olsen Track. Veteran head coach Fred Whiteside's team won five individual and two relays en route to scoring 211 points in the outdoor season opener.

Augustana's winning total was nearly 40 points more than St. Ambrose's runner-up figure of 174.5. Aurora took third with 126 and Judson was fourth with 90. Ashford (82.5), Coe (76), Carthage (51), Harper (21), College of DuPage (20) and Fontbonne (12) rounded out the field. The meet was originally supposed to be a two-day event but was shortened to just Saturday to accommodate for the predicted winter-like cold temperatures.

The Vikings heated things up with their performances, especially on the track where four of their five individual victories came in the running events. Sophomore Jessica Bacon (Rock Island HS, Rock Island, Ill.) ran away with the 800, winning in an impressive time of 2:16.81. She would later come back and handle the second leg on the victorious 1600 relay team. Bacon finished almost seven seconds ahead of her junior teammate Kate Benge (Pleasant Valley HS, Bettendorf, Iowa), who took second in 2:23.25.

Senior Sarahbeth Jones (Warren Township HS, Wadsworth, Ill.) cruised to a time of 4:40.43 to win the 1500 and she also was the anchor on the winning 3200 relay team. Junior Kelsey Stockert (Peoria Notre Dame HS, Mapleton, Ill.) won the 3000 in 11:04.07. Junior Kierra Smith (Creston HS, Creston, Iowa) took the 400 hurdles in 1:04.79 and ran the lead-off leg on the 1600 relay.

The other individual winner for Augustana was in the long jump where sophomore Astin Moravek (Riverside-Brookfield HS, Riverside, Ill.) claimed the event with a leap of 16' 9 ¼". She also placed third in the triple jump with a mark of 34' 9 ¾".

The 3200 relay team of junior Johanna Schnitzler (Downers Grove South HS, Woodridge, Ill.), sophomore Lorraine Stamberger (LaMoille HS, LaMoille, Ill.), senior Kirstillyn Pohlman (Zion-Benton HS, Winthrop Harbor, Ill.) and Jones recorded a winning time of 9:59.21. Schnitzler added an individual third place in the high jump when she went 4' 11" and Stamberger was seventh in the 1500 in 5:04.13. The 1600 relay of Smith, Bacon, freshman Stephanie Sorrentino (York HS, Elmhurst, Ill.) and junior Kristyn Barton (York HS, Elmhurst, Ill.) took first in 4:11.58. Barton also placed fifth in the 400 in 1:03.49.

Junior Liana Beauchamp (Genoa-Kingston HS, Kingston, Ill.) finished second in the hammer throw (149' 1") and fifth in the shot (36' 2"). Junior Lauren Schneiderbauer (Sterling HS, Sterling, Ill.) took second in the javelin with a toss of 101' 2". Junior Taelar Hillyer (Rock Island Alleman HS, Bettendorf, Iowa) cleared 11' 3 ¾" to finish second in the pole vault.

Freshman Annie Martines (St. Charles East HS, St. Charles, Ill.) took third in the 400 hurdles (1:08.23) and fourth in the 100 hurdles (:16.79). Freshman Hana Lobsinger (Wheaton-Warrenville South HS, Wheaton, Ill.) was third in the 3000 with a clocking of 11:06.61.

The 400 relay consisted of all freshmen as Rachel Akmakjian (Poudre HS, Fort Collins, Colo.), Anna Urbanczyk (Glenbrook North HS, Northbrook, Ill.), Sorrentino and Anna Walsh (Mahtomedi HS, Mahtomedi, Minn.) sped around the track in :52.98 to take third. Akmakjian added a seventh in the 200 in :27.74.

Senior Samantha Bazely (Rock Island Alleman HS, Coal Valley, Ill.) took fourth in the long jump with a mark of 15' 9 ¾" and was also fourth in the triple jump at 34' 4". Sophomore Lizzie Lundine (Willowbrook HS, Villa Park, Ill.) placed fifth in the 1500 in 5:02.85. Senior Annie Heifner (Oregon HS, Oregon, Wis.) placed fifth in the 3000 in 11:17.85 and senior Theresa Coverick (Stagg HS, Palos Park, Ill.) was right behind her with a sixth place time of 11:21.79. Sophomore Emily Lutton (Elkhorn HS, Omaha, Neb.) was sixth in the high jump at 4' 9".

Freshman Kayla Bushey (Luther North HS, Chicago, Ill.) placed seventh in the 100 (:13.63) and eighth in the long jump (15' 1 ¼"). Senior Taylor Tjardes (Gibson City-Melvin-Sibley HS, Gibson City, Ill.) cleared 9' 4 ¼" in the pole vault to take seventh and freshman Emalee Leigh (United Township HS, Hampton, Ill.) was eighth at 8' 10 ¼". Junior Julia Popp (Rockford Boylan HS, Belvidere, Ill.) finished eighth in the javelin with a toss of 80' 4".

The Vikings will host the Augustana Open on Thursday, March 28 at Paul V. Olsen Track with field events beginning at 3:00 p.m.