March 23, 2013
Vikings pick up two wins in St. Louis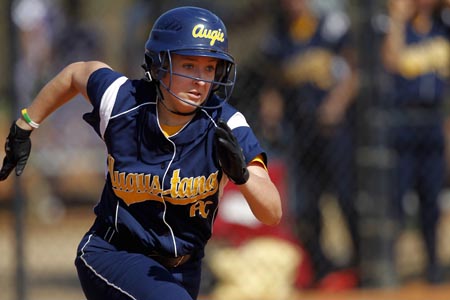 Sophomore Laura Behnke had five hits Saturday, including her first career home run, as Augustana defeated UW-Platteville and Washington University in the Mizuno Classic in St. Louis, Ill.
ST. LOUIS, Mo. - Sophomores Laura Behnke (St. Francis HS, Roselle, Ill.), Chelsea Lavin (Downers Grove South HS, Downers Grove, Ill.) and Jenna Teson (Jacobs HS, Algonquin, Ill.) each had five hits Saturday as Augustana won a pair of games at Washington University's Mizuno Classic. The Vikings defeated UW-Platteville 6-0 and the host school 5-1 behind complete games from freshman Ashley Anderson (Sherrard HS, Viola, Ill.) and junior Sarah Hintz (Le Roy HS, Le Roy, Ill.), respectively.

Game One - Augustana 6, UW-Platteville 0
Anderson threw her third shutout of the season in Augustana's first game of the day. She allowed five hits, walked none and fanned three in improving to 3-1 on the year.
The contest was scoreless after three, but junior Krista Watson (Coal City HS, Coal City, Ill.) led off the fourth with a single, stole second and moved to third on a wild pitch. She scored the game's first run on a Chaney T ambling (Dwight HS, Dwight, Ill.) ground out to short.
Behnke started a three-run fifth with a single to right. Teson followed with an infield hit and Lavin plated Behnke with a double to left. Junior Jamie Rehmert (Sterling HS, Sterling, Ill.) scored Teson with a bunt and Anderson helped her own cause with an RBI single to left, putting the Vikings up 4-0.
The final two runs came in the top of the sixth on a solo home run by Behnke, her first of the season, and back-to-back doubles by Lavin and Rehmert.
Lavin was four for four and Behnke went three for four. Each scored twice and drove in a run. Watson and Teson each had two hits as well.
Game Two - Augustana 5, Washington 1
Hintz and Washington's Annie Pitkin were locked in a scoreless duel through four and a half innings of the Vikings' second contest. Hintz pitched out of a jam in the first, leaving the bases full of Bears.
Washington got on the board first, with a run in the bottom of the fifth. Kelsey Neal scored Adrienne White with a two-out RBI single, but Hintz again avoided further damage, stranding runners at second and third.
Augustana wasted no time, responding with five runs in the top of the sixth. Lavin and Watson started the inning with back-to-back singles and Rehmert reached on an error to load the bases. Tambling gave the Vikings the lead with a two-run single. Sophomore Jaclyn Wrona (Glenbard South HS, Wheaton, Ill.) drove in a run with a ground out and freshman Cheyene Burnett (Rock Falls HS, Rock Falls, Ill.) and Teson each drove in runs with a double and single, respectively.
Hintz finished strong, facing the minimum over the last two innings and fanning two in a 1-2-3 seventh. She improved to 4-2 with the win. Teson went three for four, while Behnke was two for three.
On Wednesday, March 27, the Vikings travel across the Mississippi to Davenport, Iowa and take on St. Ambrose in a doubleheader. First pitch is scheduled for 3:00 p.m.