March 23, 2013
Vikings open MWLC play with 19-1 win at Beloit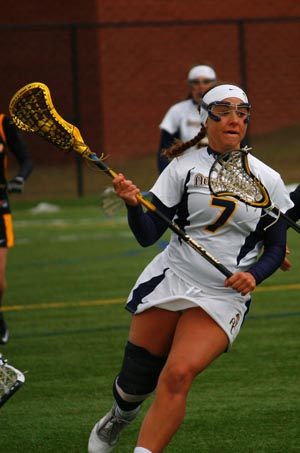 Sophomore Christina Letmanski had three goals and four assists to help lead Augustana to a 19-1 victory over Beloit in the Vikings' Midwest Women's Lacrosse Conference opener.
BELOIT, Wis. - Augustana's first ever venture into Midwest Women's Lacrosse Conference play proved successful on Saturday, March 23 with a 19-1 win over Beloit in Beloit, Wisconsin. The Vikings completely dominated the game en route to moving their overall record to 5-3.

A total of 10 players scored for Sara Tisdale's unit with sophomore Christina Letmanski (Glenbard West HS, Wheaton, Ill.) and freshmen Rebecca Pollard (Westfield HS, Carmel, Ind.) and Kendall Maduro (Neuqua Valley HS, Naperville, Ill.) all tying for the team lead with three apiece.
It didn't take long for the Vikings to get on the scoreboard as Maduro used an assist from freshman Emily Handrahan (Lake Zurich HS, Hawthorne Woods, Ill.) to hit the nets before the game was 30 seconds (29:35) old. Handrahan assisted on the second goal of the game, which went to Letmanski at 27:39, as well. Maduro made it 3-0 at 26:56 with Letmanski getting the assist this time.
Pollard scored the next two goals to make it 5-0 with the first one unassisted and sophomore Hilary Kargl (Sacred Heart Academy, Louisville, Kent.) assisting on the second. Kargl scored at 18:20 to make it 6-0 with sophomore Kelly Molloy (Glenbard West HS, Glen Ellyn, Ill.) getting the assist and Pollard hit at 17:13 with Letmanski collecting another assist.
Sophomore Allie Roehrenbeck (Columbus Academy, Gahanna, Ohio) scored unassisted at 16:23 and Maduro used a feed from Handrahan at 8:50 to up the score to 10-0. Freshman Ryan Merhar (Oak Park-River Forest HS, River Forest, Ill.) got the final goal of the half for Augustana with 4:32 remaining as Pollard assisted.
Beloit scored its only goal of the game at 3:38 when Sara Fithian tallied thanks to an assist from Ellie Daniels.
At halftime Augustana held a 20-3 advantage in shots and had won seven of 11 draw controls. Handrahan got things going after intermission with a goal while Letmanski got the assist at 28:10. Letmanski scored her final goal of the game, unassisted, at 26:51 to make it 13-1.
Freshman Kaylee Nolan (Carl Sandburg HS, Orland Park, Ill.) used a Handrahan assist to score at 21:55 and Roehrenbeck got an assist from Kargl at 18:58 to make it 15-1.
Sophomore Alex Palmisano (Wheaton-Warrenville South HS, Wheaton, Ill.) scored her only goal of the game at 17:45 with Roehrenbeck assisting. Sophomore Kelly Stelzer (Wheaton-Warrenville South HS, Wheaton, Ill.) had an unassisted goal at 12:32 and Kargl and Roehrenbeck scored the last two goals of the match with Letmanski and Pollard assisting.
Letmanski had four assists to go with her three goals and Handrahan also had four assists. Pollard and Kargl were each credited with two assists in the contest. Sophomore Sarah Osier (Naperville Central HS, Naperville, Ill.) worked the first 30 minutes in goal and was credited with the victory to even her record at 3-3 on the season. She had one save. Freshman Jenna Hoffmann (Columbine HS, Littleton, Colo.) was called on for the second half and she also had a save.
Augustana will host Concordia-Wisconsin on Wednesday, March 27 at 7:30 at Thorson-Lucken Field in MWLC action.