March 21, 2013
Pecora named MVP for women's basketball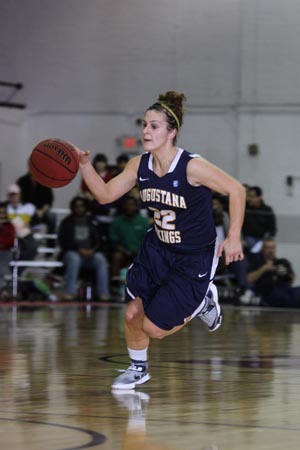 Senior Gianna Pecora was named the Most Valuable Player for the 2012-13 Augustana women's basketball team.
Augustana head coach Mark Beinborn announced the 2012-13 women's basketball awards today and senior guard Gianna Pecora (Downers Grove South HS, Darien, Ill.) was the big winner. Pecora was named the Vikings' Most Valuable Player.

Sophomore Valerie VanRoeyen (Libertyville HS, Grayslake, Ill.) and freshman Andrea McNally (Hinsdale South HS, Burr Ridge, Ill.) split the team's Defensive Award and junior Amy Hicks (Christian HS, Rockford, Ill.) was the winner of the Defensive Award. Senior Devon DiIorio (Glenbard South HS, Glen Ellyn, Ill.) was voted the Vikings' Most Improved Player.
The 5' 5" Pecora averaged 8.6 points and 3.9 rebounds this season while starting all 25 games for the Vikings. She shot .346 from the field and .640 from the free throw line and added team highs in assists (68) and steals (37). Her best game of the season came against Millikin when she helped lead Augustana to a win as she finished with 19 points and eight rebounds. Pecora finished her career at Augustana a four-time letter winner.
VanRoeyen, a 5' 7" guard, shot .333 from the field and had 20 assists in 11.8 minutes per contest. She also had 10 steals on the season while shooting .783 from the free throw line.
McNally, a 5'10" guard, averaged 2.9 rebounds per game as a guard, dished out 34 assists and added 15 steals to contribute in the backcourt for the Vikings.
Hicks, 5'7" guard, was second on the team in rebounds (126) and shot .460 from the field and .776 from the free throw line. She was the fourth highest leading scorer for Augustana averaging 7.6 points.
DiIorio closed her career as a Viking in a big way leading the team with 11 blocks. Although averaging 4.7 minutes per contest, DiIorio shot .529 from the field. She was one of the two senior on this year's roster.
2012-13 AUGUSTANA WOMEN'S BASKETBALL LETTER WINNERS
| | | | | | |
| --- | --- | --- | --- | --- | --- |
| NO | NAME | POS | HT | YR | HOMETOWN/HIGH SCHOOL |
| 11 | Kayla Boers* | F | 6-0 | So | Oswego, Ill./East |
| 12 | Molly Etheridge*** | G | 5-5 | Jr | Bloomington, Ill./Normal Community |
| 20 | Amy Hicks** | G | 5-7 | Jr | Rockford, Ill./Christian |
| 21 | Valerie VanRoeyen* | G | 5-7 | So | Grayslake, Ill./Libertyville |
| 22 | Gianna Pecora**** | G | 5-5 | Sr | Darien, Ill./Downers Grove South |
| 30 | Andrea McNally* | G | 5-10 | Fr | Burr Ridge, Ill./ Hinsdale South |
| 32 | Alexandria Lee* | F | 6-0 | Fr | West Dundee, Ill./ St. Edwards Central Catholic |
| 33 | Maddie Kerr* | G | 5-11 | Fr | Streamwood, Ill./Elgin St. Edwards Catholic |
| 34 | Marissa Pezzopane* | F | 6-0 | Fr | Wood Dale, Ill./Addison Trail |
| 40 | Jessica Baids*** | F | 5-9 | Jr | Carol Stream, Ill./West Chicago |
| 41 | Devon DiIorio* | F | 6-1 | Sr | Glen Ellyn, Ill./Glenbard South |
| 42 | Natalie Tomerlin* | G/F | 5-8 | Fr | Darien, Ill./Hinsdale South |
| 44 | Chaney Tambling*** | F | 5-8 | Jr | Dwight, Ill./Township |