March 21, 2013
2012-13 WOMEN'S BASKETBALL SEASON REVIEW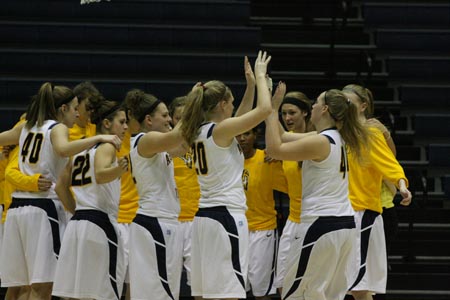 Mark Beinborn's first season as the head coach of the Augustana women's basketball program ended with a 7-18 overall record. The Vikings defeated eventual NCAA Division III participant Wheaton at home on January 9.
Beinborn era begins at Augustana; Vikings go 7-18; defeat NCAA tournament participant Wheaton

The 2012-13 season marked the beginning of the Mark Beinborn era in women's basketball at Augustana in. After four years as an assistant on the Viking bench, Beinborn took over the head coaching reins this season. With just two seniors on this year's roster and five freshmen who saw considerable playing time, hopes are high for the future despite a 7-18 record.
After a 75-66 loss at Monmouth its season opener, the team gave Beinborn his first collegiate head coaching victory with a 75-63 win over Robert Morris-Springfield at Carver Center on November 17. Junior guard Molly Etheridge (Normal Community HS, Bloomington, Ill.) led the way with 26 points. The Vikings moved to 2-1 with an 83-56 win Knox behind 18 points and 13 rebounds from freshman Marissa Pezzopane (Addison Trail HS, Wood Dale, Ill.).
After a pair of losses Augustana evened its record at 3-3 with a 75-47 win over Blackburn at home. Senior guard Gianna Pecora (Downers Grove South HS, Darien, Ill.) hit four of eight three-point attempts and led three Vikings in double figures with 16 points. In their next game the Vikings battled sixth-ranked Washington University, trailing by just nine with less than four minutes to play before falling 74-61 at Carver Center.
Augustana closed out the pre-CCIW schedule with losses at UW-Platteville and Central and a 73-42 win over Dominican at Carver Center. Junior forward Chaney Tambling (Dwight HS, Dwight, Ill.) led a balanced Viking attack with 10 points against the Stars. Augustana enetered conference play with a 4-6 record.
The highlight of the CCIW season came on January 9, when the Vikings hosted Wheaton at Carver Center. The Thunder entered the contest with an 11-1 record and sitting just outside the D3hoops.ocm Top 25. Junior post Jessica Baids (West Chicago, Ill, Carol Stream, Ill.) scored a game-high 18 points on 6-of-7 field goal shooting as Augustana claimed a 60-53 win. Wheaton would go on to finish second in the league and earn a berth in the NCAA Division III tournament.
The Vikings defeated Millikin 69-55 in Decatur, Illinois on January 16 for their other CCIW win. Etheridge and Pecora had season-highs of 27 and 19 points, respectively in the victory.
Baids had 21 points and nine rebounds and Etheridge scored 15 off the bench as Augustana defeated Aurora 70-63 on the road in a rescheduled contest postponed by snow in December.
Etheridge finished the year as Augustana's leading scorer at 10.8 points per game. She also led the Vikings in rebounding (5.2 rpg) and tied Pecora for the team lead with 68 assists. Pecora, who along with center Devon Di Iorio (Glenbard South, Glen Ellyn, Ill.) is one of just two seniors on the this year's roster, led the Vikings with 37 steals and was Augustana's third-leading scorer at 8.6 points per game. Di Iorio led the team with 11 blocked shots. In addition, Pecora's team-high 34 three-point field goals this season rank as the eighth-most in school history, while Etheridge's 33 are ninth.
Baids was the Vikings' second-leading scorer at 9.4 points per game. She also converted a team-best .545 from the field, a figure that ranks sixth-best in school history. Junior Amy Hicks (Rockford Christian HS, Rockford, Ill.) was fourth on the squad with 7.6 point per game, shooting .460 from the floor, .400 from three-point range and .776 from the free throw line. She was also Beinborn's second-leading rebounder at 5.0 per game.
Pezzopane (6.1 ppg, 3.8 rpg), Tambling (5.6 ppg, 4.4 rpg) and sophomore Kayla Boers (Oswego East HS, Oswego, Ill.) (4.0 ppg, 4.0 rpg) all played significant minutes up front for the Vikings, while freshmen Andre McNally (Hinsdale South HS, Burr Ridge, Ill.) (34 assists and 15 steals) and Maddie Kerr (St. Edwards HS, Streamwood, Ill) (18 three-pointers) and sophomore Valerie VanRoeyen (Libertyville HS, Grayslake, Ill.) contributed in the backcourt. Two more first-year Vikings, Natalie Tomerlin (Hinsdale South HS, Darien, Ill.) and Alex Lee (St. Edwards HS, West Dundee, Ill.), gained valuable varsity experience as well.
Pecora, Etheridge and Hicks all cracked Augustana's career top ten lists this season. Pecora finished her career fifth in school history in three-point field goals (83) and fourth in attempts (301). Hicks currently ranks ninth in field goal percentage, converting at a .477 (113-237) rate. At the end of her junior season, Etheridge is sixth in three-pointers (81), fifth in three-point attempts (273), sixth in three-point percentage (.297) and eight in free throw percentage (.730). The Vikings finished the year averaging 60.9 points per game and allowing an average of 66.9. They outshot the opposition from the field .388 to .381 and won the battle of the boards by an average margin of 41.4 to 37.6 per game.
2012-13 CCIW WOMEN'S BASKETBALL STANDINGS
| | | | | | | | |
| --- | --- | --- | --- | --- | --- | --- | --- |
| TEAM | CCIW | W-L | PCT | Overall | W-L | PCT | |
| Carthage | | 13-1 | .929 | | 24-5 | .828 | |
| Wheaton | | 11-3 | .786 | | 22-6 | .786 | |
| Illinois Wesleyan | | 11-3 | .786 | | 18-8 | .692 | |
| North Central | | 6-8 | .429 | | 13-13 | .500 | |
| North Park | | 5-9 | .357 | | 14-11 | .560 | |
| Elmhurst | | 5-9 | .357 | | 11-14 | .440 | |
| Millikin | | 3-11 | .214 | | 8-16 | .333 | |
| AUGUSTANA | | 2-12 | .143 | | 7-18 | .280 | |
2013 CCIW TOURNAMENT
Tarble Arena-Carthage College-Kenosha, Wisconsin
Friday, February 22 (2) Wheaton 62, (3) Illinois Wesleyan 59 (1) Carthage 91, (4) North Central 81
Saturday, February 23 (1) Carthage 61, (2) Wheaton 52
2012-13 AUGUSTANA SUPERLATIVES
CCIW ACADEMIC ALL-CONFERENCE: Jessica Baids, Kayla Boers, Devon DiIorio, Molly Etheridge, Maddie Kerr, Andrea McNally, Chaney Tambling, Valerie VanRoeyen
SINGLE SEASON TOP TEN:
Field goal percentage - Jessica Baids .545 (6th);
3-point attempts - Gianna Pecora 129 (4th), Molly Etheridge 101 (T-10th);
3-point field goals - Gianna Pecora 34 (8th), Molly Etheridge 33 (9th)
CAREER TOP TEN:
3-point attempts - Gianna Pecora 301 (4th), Molly Etheridge 273 (5th);
3-point field goals - Gianna Pecora 83 (5th), Molly Etheridge 81 (6th);
3-point percentage - Molly Etheridge .297 (6th);
Free throw percentage - Molly Etheridge .730 (8th); Field goal percentage - Amy Hicks .477 (9th)
2012-13 WOMEN'S BASKETBALL AWARDS
MOST VALUABLE PLAYER: Gianna Pecora
DEFENSIVE SAWARDS: Valerie VanRoeyen & Andrea McNally
REBOUNDING AWARD: Amy Hicks
MOST IMPROVED: Devon DiIorio