March 20, 2013
Augustana blanks Calvin 20-0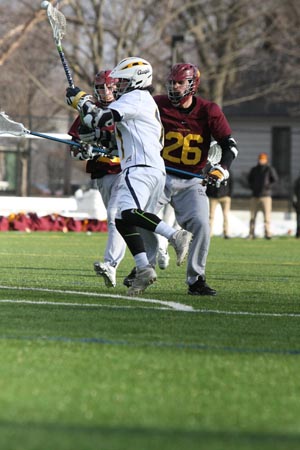 Sophomore Chris Hager had three goals and an assist Wednesday as Augustana defeated Calvin 20-0 at Thorson-Lucken Field.
ROCK ISLAND, Ill.- Four Vikings scored three goals each Wednesday as Augustana evened its 2013 record at 3-3 with a 20-0 whitewash of Calvin at Thorson-Lucken Field. In addition to their three goals, sophomore Jesse Nagelberg (St. Charles East HS, St. Charles, Ill.) and freshman Scott Davis (St. Thomas Aquinas HS, Overland Park, Kan.) each added two assists.

Freshman Kevin Gleason (Loyola Academy, Chicago, Ill.) got the Vikings on the board with his 13th goal of the season at the 11:23 mark of the first quarter. It was the first of three goals on the day for Gleason. Nagelberg and Davis each scored back-to-back goals to push the lead to 5-0 and sophomores Colin Haley (St. Charles East HS, St. Charles, Ill.) and Chris Hager (Exeter Academy, Newfields, N.H.) scored as well as the first period ended with the hosts up 7-0.
Hager 's unassisted goal was the only score of the second period and the Vikings took an 8-0 lead to the halftime break.
Hager, Haley, Davis, Gleason and Nagelberg each scored in the third period. Davis' goal was his team-leading 18th of the season. Also in the third quarter, Augustana sophomore Andrew Jurewicz (St. Charles East HS, St. Charles, Ill.) scored his first goal of the season and sophomore Vincent Giglierano (Archbishop Mitty HS, San Jose, Calif.) his third.
Sophomores Tim Fennelly (Littleton HS, Centennial, Colo.) and Evan Chikeles (Hoffman Estates HS, Hoffman Estates, Ill.) and freshmen Andrew Miller (Waukesha North HS, Waukesha, Wis.) and Kyle Doner (Peak to Peak HS, Erie, Colo.) each had goals in the fourth quarter as the Vikings set a program record for goals in a game.
Freshman Jack Peters (Maine South HS, Park Ridge, Ill.) played the first three periods in goal before being relieved by sophomore Jon Pape (Hoffman Estates HS, Hoffman Estates, Ill.). Each recorded two saves.
On Sunday, March 24, Augustana will play its first-ever Midwest Lacrosse Conference contest at Defiance. Game time is scheduled for 1:00 p.m.