March 19, 2013
VanNatta wins CCIW "Hitter of the Week" honor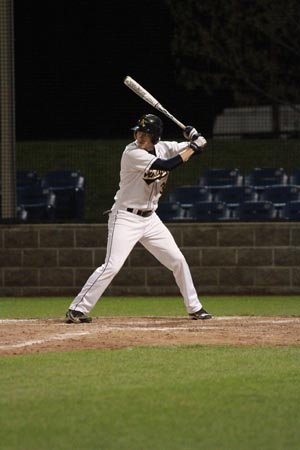 Senior Mark VanNatta won the "Hitter of the Week" honors in the College Conference of Illinois & Wisconsin after batting .615 in four games last weekend. He is the fourth Augustana player to be awarded "Player of the Week" honors so far this spring.
Augustana senior centerfielder Mark VanNatta (Rock Island Alleman HS, Moline, Ill.) has been named the "Hitter of the Week" in the College Conference of Illinois & Wisconsin after his bat helped key three wins in a recent four game swing to Florida. VanNatta was a tough out as the Vikings swept a double header against Greenville, lost to Webster and pounded Anderson on a weekend jaunt to Winter Haven, Florida.

Van Natta batted .615 in the four game set with eight hits in 13 at-bats while scoring four runs with four doubles and three runs-batted-in. He had one stolen base and was hit-by-pitch twice and he handled eight putout chances in the outfield flawlessly. He had a .923 slugging percentage and a .667 on-base percentage.
His best game of the weekend was the finale against Anderson on Sunday, March 17. He went five for five with two runs scored, three RBI and three doubles in a 16-1 drubbing of the Ravens. He had two hits in five at-bats with a double in a 9-4 loss to Webster on Saturday, March 16. In a double header on Friday, March 15, when the Vikings beat Greenville 4-0 and 8-0, he had one hit in three official at-bats with two runs scored. He was hit-by-pitch twice in the first game and also had a sacrifice bunt while collecting a stolen base.
For the season VanNatta is hitting .386 with 17 hits in 44 at-bats while scoring eight runs. He has six doubles, one home run and nine RBI. VanNatta has walked twice and been hit-by-pitch twice with two stolen bases. He also has one sacrifice fly and one sacrifice bunt. In the field he has 17 put-outs without an error.
Augustana is currently 10-2 overall and ranked 25th in the latest NCAA Division III national poll, according to D3baseball.com. The Vikings are scheduled to play Monmouth at 6:00 p.m. on Friday, March 22 at Swanson Stadium and then host Wisconsin-Platteville on Saturday, March 23 at 12:00 noon and Aurora on Sunday, March 24, also at 12:00 noon.
VanNatta is the fourth Viking honored this spring by the CCIW. Junior right fielder Jacob Van Duyne (Wilmington HS, Wilmington, Ill.) and senior second-baseman Kurt Schmidt (Grayslake Central HS, Grayslake, Ill.) were "Hitters of the Week" on February 26 and March 5 respectively and senior Ben Heaton (Bloomington Central Catholic HS, Heyworth, Ill.) was the "Pitcher of the Week" on February 26.
VanNatta, a biology major, is the son of Mike and Doreen VanNatta or Moline, Illinois.