March 19, 2013
2012-13 WRESTLING REVIEW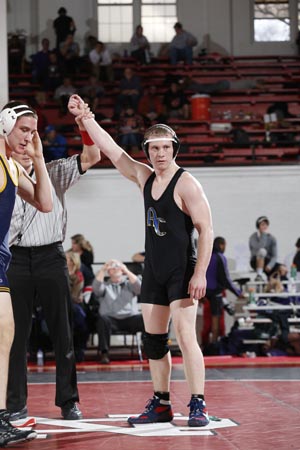 Senior Matt Burns earned NCAA Division III All-American honors with a seventh place finish at the national tournament. He finished the year with a 38-11 record at 174 pounds.
Matt Burns finishes seventh at nationals; becomes 50th Viking grappler to earn All-America honors; John Schraidt wins CCIW 285-pound title; Jacob Scholten, Burns & Schraidt each win over 30 matches; Augustana finishes 14-5 in duals, third in the conference, seventh at regionals, 40th at nationals

A seventh-place finish for 174-pound senior Matt Burns (Naperville Central HS, Naperville, Ill.) at the 2013 NCAA Division III Championships in Cedar Rapids, Iowa capped off another successful season for Coach Eric Juergens' Augustana wrestling program. The Vikings went 14-5 in dual meets, finished seventh at the NCAA Central Regional and tied for 40th at nationals.
Burns' performance marked the 50th time an Augustana grappler has earned All-America status. He finished the season with a 38-11 record, tying the 20th-most single season wins in school history. 285-pound sophomore John Schraidt (Riverside-Brookfield HS, Riverside, Ill.) and 125-pound junior Jacob Scholten (Rockford HS, Grandville, Mich.) joined Burns with 30 or more wins, finishing 32-11 and 36-9, respectively. Schraidt was also a CCIW champion.
Burns' journey at nationals started with a 7-4 first round loss to Ben Kramer of Messiah, but he rebounded to win three straight in wrestlebacks. He beat Ethan Ball of Coe 9-7, pinned Trine's Ryan Pieper and outlasted Dylan Azinger of Wartburg 10-9. On the second day of action, he was pinned by Gettysburg's Zach Thompson, but then avenged the loss to Kramer, beating him 4-2 in the seventh-round match. Burns reached the national meet with a third-place finish at the Central Regional in Dubuque, Iowa.
At the CCIW meet, Schraidt scored a 7-5 sudden victory over Jack Lewis of Elmhurst to claim the title at 285 pounds. The Vikings finished third as a team with 52 points. Augustana wrestled without 2011 CCIW 125-pound champion Scholten and 2012 174-pound champion and Co-Outstanding Wrestler Jordan Richardson (Grandville HS, Wyoming, Mich.). Richardson (27-10 in 2012-13), who moved up to 184 pounds this year, was out with an injury.
Augustana got second-place performances at 141, 149 and 174 pounds. 2012 165-pound champion Burns scored a 3-0 semifinal win over Wheaton's Matt McCrary at 174 pounds, but fell 10-4 to Danny Balderas of Elmhurst in the title bout. At 149, sophomore Walter Piech (Lincoln-Way East HS, Mokena, Ill.) (21-13 on the year) took care of Daniel Mitchell of Wheaton 6-1 in the semis before dropping a 5-4 decision to North Central's Nathan Segal for the championship. Freshman Isaiah Schaub (St. Francis HS, Traverse City, Mich.) (17-12) was second at 141 as well, pinning North Central's Jonathan Williamson at 5:59 of their semifinal bout to reach the championship, where he fell 12-3 to Ryan Earley of Elmhurst.
Three Vikings scored third-place finishes. 157-pound sophomore Kevin Sundberg (Paw Paw HS, Paw Paw, Mich.) (29-18) lost 7-5 in the semifinals to Nick DiNardo of Elmhurst, but rebounded by winning 10-5 over Blake Olson of North Central in their third-place bout. Wheaton's Daniel Olsen pinned Thomas Reyhons (Assumption HS, Davenport, Iowa) (13-8) in their 184-pound semifinal match, but the Augustana sophomore bounced back to stick Vince Marrone of North Central in just 49 seconds for third. Sophomore 165-pounder Connor Cummings (Downers Grove North HS, Woodridge, Ill.) (11-19) was a third-place finisher by default after falling 11-6 to Yousef Al-Ghoul of Elmhurst in the semis.
Scholten, Burns, Schraidt and sophomore 157-pounder Alex Bowers (Noblesville HS, Noblesville, Ind.) (9-6 in 2012-13) were all champions at this year's Knox Open. Burns and Richardson won titles at the North Central Invitational, to help the Vikings finished second of 10 teams. Scholten and Schraidt won championships at the Central Invitational as well.
Augustana had dual-meet wins over CCIW foes Wheaton (31-13) and North Central (32-7) and lost to second-ranked and eventual national runner up Elmhurst 31-11. In addition to its second place finish at Central, Augustana was 19th among 29 teams at Wheaton's Pete Willson Invitational.
The Vikings other top performers this year included freshman 125/133-pounder Jimmy Panozzo (Sandburg HS, Orland Park, Ill.), who finished 27-15 and 141-pound sophomore Hector Ruiz (East Aurora HS, Aurora, Ill.), who went 23-16. Giving the Vikings great depth at 285 pounds were junior Abe Duran (East Aurora HS, Aurora, Ill.) and sophomore John Seaman (Munster HS, Munster, Ind.), who posted 12-6 and 14-6 records, respectively.
2013 COLLEGE CONFERENCE OF ILLINOIS & WISCONSIN TOURNAMENT
February 21, 2013 ***King Arena*** Wheaton, Illinois
TEAM SCORES: 1. Elmhurst 110; 2. Wheaton 58; 3. AUGUSTANA 52; 4. North Central 48; Millikin, North Park, Illinois Wesleyan and Carthage did not field teams.
INDIVIDUAL PLACE WINNERS
| | | | | |
| --- | --- | --- | --- | --- |
| WT | CHAMPION | SECOND | THIRD | FOURTH |
| 125 | Miguel Valencia, Elm | Nicolas Santos, NCC | Tom Foy, Whe | |
| 133 | Nathan Fitzenreider, NCC | Dalton Bullard, Elm | David Watson, Whe | |
| 141 | Ryan Early, Elm | ISAIAH SCHAUB, AUG | Jonathan Williamson, NCC | Jeremiah Brown, Whe |
| 149 | Nathan Segal, NCC | WALTER PIECH, AUG | Sean Raddatz, Elm | Daniel Mitchell, Whe |
| 157 | Mark Savenok, Whe | Nick DiNardo, Elm | KEVIN SUNDBERG, AUG | Blake Olson, Whe |
| 165 | Yousef Al-Ghoul, Elm | Peter Huang, Whe | CONNOR CUMMINGS, AUG | |
| 174 | Danny Balderas, Elm | MATT BURNS, AUG | Kyle Geary, NCC | Matt McCrary, Whe |
| 184 | Josef Rau, Elm | Daniel Olsen, Whe | THOMAS REYHONS, AUG | Vince Marrone, NCC |
| 197 | Mike Benefiel, Elm | Darren Faber, Whe | Casey Greenberg, NCC | JAKE MELIK, AUG |
| 285 | JOHN SCHRAIDT, AUG | Jack Lewis, Elm | Mitchell Steed, Whe | |
2012-13 AUGUSTANA WRESTLING SUPERLATIVES
NCAA DIVISION III ALL-AMERICAN - Matt Burns, 7th place @ 174 pounds
NCAA DIVISION III NATIONAL MEET QUALIFIERS - Matt Burns @ 174 pounds
COLLEGE CONFERENCE OF ILLINOIS & WISCONSIN INDIVIDUAL CHAMPIONS - John Schraidt @ 285 pounds
COLLEGE CONFERENCE OF ILLINOIS & WISCONSIN ACADEMIC ALL-CONFERENCE - Dan Murray
KNOX OPEN CHAMPIONS (11/10/11) - Jacob Scholten @ 125 pounds; Alex Bowers @ 157 pounds; Matt Burns @ 174 pounds; John Schraidt @ 285 pounds NORTH
CENTRAL INVITATIONAL CHAMPIONS (12/08/12) - Matt Burns @ 174 pounds; Jordan Richardson @ 184 pounds
CENTRAL INVITATIONAL CHAMPIONS (1/12/13) - Jacob Scholten @ 125 pounds; John Schraidt @ 285 pounds
ADDITION TO AUGUSTANA'S TOP 20 SINGLE SEASON VICTORY LIST - Matt Burns, tied for 20th with 38-11 record
CCIW WRESTLER OF THE WEEK - Jacob Scholten, 12/18/12
TEAM DUAL MEET RECORD - 14-5 (.737); best record since 2003-04
CCIW TEAM FINISH - Third with 52 points